Creating Social-Justice Themed Artwork
Young activist motivated to make a difference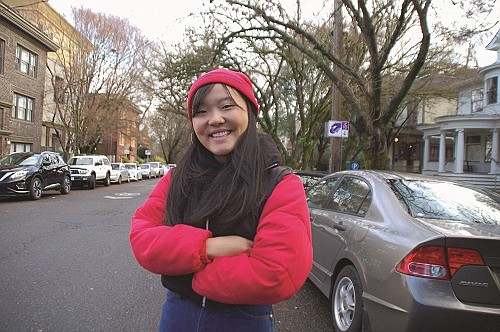 Ameya Okamoto is only 18-years-old but she has already has made a name for herself by creating dramatic social-justice themed artwork.
Having been involved in causes like LGBTQ rights, joining protests by Don't Shoot Portland and Black Lives Matter Portland , and advocating for mental health services, Okamoto's says her artistic mission is to "make the revolution accessible."
Okamoto has already had her artwork featured at the Portland Art Museum and galleries in Miami and Washington, D.C. Her story and accomplishments have been featured in the Washington Post and New York Post. Last year, as a high school senior, she was selected as one of 20 U.S. Presidential Scholars.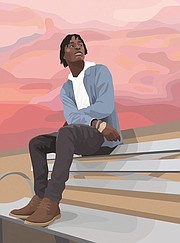 She's perhaps best known for her portrait of Quanice Hayes, an unarmed black teen who was shot and killed by Portland Police in February 2017, which was carried by Don't Shoot Portland and Black Lives Matter Portland protesters following Hayes' death.
"He was a 17 year old. I was 17 at the time, actually. I had been working with Black Lives Matter Portland, very closely, but realizing how close to home it was....within 36 hours, I had created a piece which had gone a little bit viral," Okamoto told the Portland Observer.
"We ended up having it printed and given to his family at his memorial. And to have that experience of being with his family and with his community, it kind of made me realize the power that art could bring," she added.
That piece spurred more artwork surrounding the theme of social activism and Okamoto came to the realization that such portraits are a positive alternative to the outdated and incriminating mug shots that police often release to the media in officer-involved shootings.
"It was amazing to me and opened a lot of doors to realizing the potential of fine art in activism," Okamoto recalled.
A few months later, in May 2017, when a man's xenophobic and racist verbal assaults against two young girls on a Max train ended up costing the lives of two other men who were stabbed trying to defend the young women , Okamoto created a heartfelt portrait of one of the victims, Talisin Namkai-Meche. She worked closely with his family and again presented the finished portrait to them at Namkai-Meche's memorial.
Okamoto also worked with the designer of the new Hollywood Max Station mural in commemoration of the incident on Northeast 42nd Avenue, created by Sarah Farahat, by helping Farahat paint the public art piece.
She's also created works depicting Michael Brown, the 18-year-old unarmed black man who was killed by a police officer in 2014 in Ferguson, Mo., and of Eric Garner, the black man who died in Staten Island, New York after an officer put him a headlock while arresting him that same year.
Okamoto even had a surreal meeting with President Donald Trump, whom she calls a "demagogue," in the White House over the summer as part of being honored as a presidential scholar.
Though she agonized over whether to even attend the meeting, as she views the President's policies as counter to her mission as an activist, she ultimately decided to go.