A Go-Ahead for E-Scooters
One year pilot to begin in spring
1/16/2019, 11:22 a.m.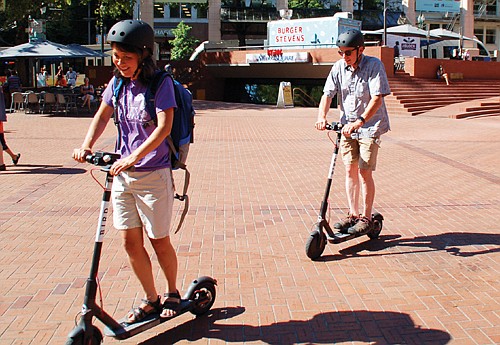 E-scooters are returning to Portland in the spring and this time will be evaluated over a one year period, the Portland Bureau of Transportation announced Tuesday.
After a pilot program from late July to late November gave Portlanders a taste of the motorized transportation devices available on the street for rent via a smart phone, a report released by PBOT Tuesday determined 62 percent of Portlanders view e-scooters positively, though some problems are yet to be resolved for what will be a year-long pilot program starting this spring.
"I remain concerned about the unlawful use of e-scooters on sidewalks and in city parks, and the impact of e-scooters on people with mobility challenges or vision impairment. We will continue to seek public input on how to best serve all Portlanders," said Transportation Commissioner Chloe Eudaly.
Scooter safety risks were found to be relatively similar to other transportation methods, the report said. About 5 percent of the estimated 3,220 total traffic crash injury visits to emergency rooms and urgent care centers were tied to scooters during the 120 day pilot period—or less than half the amount of bicycle related injuries during that time.
Though an exact date has not been set for the e-scooters' return over the coming months, PBOT plans to test new measures to improve the use of e-scooters when the new one-year pilot period begins.