Legacy Awards and Drum Major Service
Historic church to host MLK tributes
1/16/2019, 6 a.m.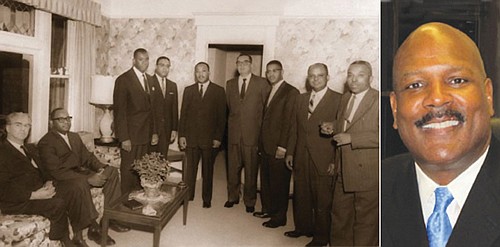 Portland's Vancouver Avenue First Baptist Church and its vibrant community will host its annual Drum Major celebrations in tribute to Dr. Rev. Martin Luther King Jr. on the weekend of the national holiday honoring the civil rights icon.
The church will host its annual MLK "Salute to Greatness" awards and scholarship luncheon on Saturday, Jan. 19 from noon to2 p.m.at the New Song Community Church Fellowship Hall at Northeast Martin Luther King Jr. Boulevard and Russell Street; and then on Sunday, Jan. 20 it will host its annual "Empower the Dream" MLK service from 2 p.m. to 4 p.m.at the Vancouver Avenue's historical sanctuary at 3138 N. Vancouver Ave.
The public is encouraged to attend both events. Donations of $25 will support future scholarships. But if one cannot afford the donation, it will not be a barrier to entry, organizers said.
Mr. Lakayana Drury, social studies teacher at Rosemary Anderson High School and executive director of "Word is Bond" will deliver the keynote address at the Saturday awards and scholarship luncheon. Ambassador Attalah Shabazz, eldest daughter of Malcom X and Dr. Betty Shabazz, will be the keynote speaker for the MLK Sunday service.
The following community leaders will be recognized: The Rev. W. Mark Knutson of Augustana Lutheran Church; Andrew and Hermann Colas, Colas Construction; Michael R. Booker Sr., the Miracles Recovery Club; musician and artist Michael Allen Harrison; Sam Sachs & Noho Marchesi of Breaking Bread/Breaking Barriers; the Native American Youth & Family Center; and educator and community activist Dr. Joyce Harris.
The following senior high school students will be honored and receive scholarships: Gigi Karimu of DeLaSalle North Catholic; Elijah Hudson of Helensview; Sarah Steele of Jefferson; Kenneth Kimmons of Rosemary Anderson; Tosa Kitungano of Roosevelt and Gavin Fortner of Second Home.
Shabazz, a lifetime ambassador for peace as appointed by the Prime Minister of Belize will be making her first Portland appearance for the MLK service. Mayor Wheeler and other public officials will give greetings as will inter-faith leaders. The Pacific Youth Choir under the direction of Mia Hall will perform.
Vancouver Avenue is one of Portland's historic venues and the only church in Oregon where Dr. Martin Luther King, Jr. addressed the "Beloved Community" in November 1961 as part of his trip to the Pacific Northwest during the Civil Rights Movement.
When asked about the meaning of the church's MLK events against the current social and political backdrop, Pastor J.W. Matt Hennessee, said, "In times like these, it is imperative that we gather as community to work together, celebrate together, and collaborate together to ensure a vibrant, inclusive, and constructive future. The spirit and legacy of Dr. King, Mrs. King, Mrs. Parks, President Mandela, Malcolm X and so many who came before us is what gives us encouragement and hope that we will overcome the difficulties, stresses, and strains of now and continue to build the 'Beloved Community.'"
For tickets and more information, call the church office at 503-282-9496 or visit vafbcpdx.org.