On Alberta Street
Show Opens with Reception
1/30/2019, 6 a.m.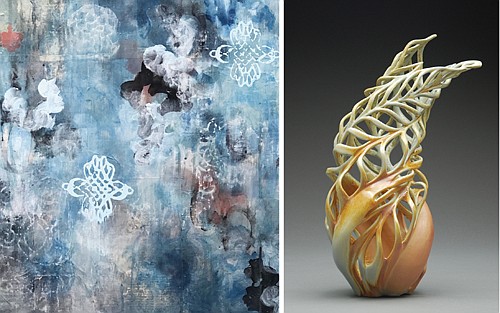 Guardino Gallery, 2939 N.E. Alberta St. opens its doors to a February show by inviting the community to a reception with the featured artists. The opening night event will take place on Last Thursday, Jan. 31, from 6 p.m. to 9 p.m.
The gallery is highlighting the works of two artists in the Main Gallery: Paula Blackwell, a painter who focuses on the abstract, engaging in a complex and playful fusion of color, shape and atmosphere; and Hanna Traynham, whose ceramic work mimics organic growth and fluid movement. Her sculptures refer to the asymmetrical balance of nature, imperfection and impermanence.
In the gallery's feature area, Celeste LeBlanc will display some of the kiln-formed glass she has produced over the past 20 years.