A Moving Portrait of Life on the Margins
'Roma' is my favorite film of 2018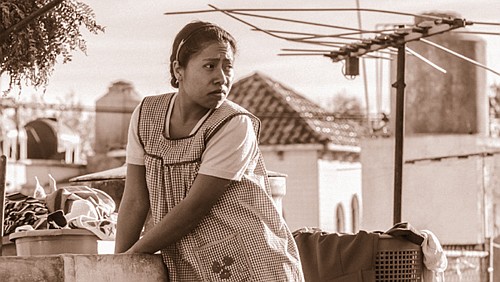 It would be hard to overestimate how much our perspective on absolutely everything -- from what happened in history to what is fair, worthy, or beautiful -- is affected by privilege. All our institutions and all our media are dominated by privileged voices, which profoundly skews how we see reality. I would go so far as to say that, unless we prioritize the perspective of those who are relegated to the margins, our understanding of reality is bound to be hopelessly flawed and incomplete.
In his gorgeous film, "Roma," my favorite film of 2018, Mexican director Alfonso Cuarón revisits a particular period in his own childhood, but does not center his own perspective. Instead, while he has painstakingly recreated the circumstances, culture, events and surroundings of his upper middle-class upbringing in the Roma district of Mexico City, he centers his film on the perspective of the indigenous woman who raised him (here called Cleo), who also served as one of three domestic servants in his household. It turns out that this marginalized person -- like many if not most other marginalized people -- actually is central to the family's functioning. In a real sense, by centering Cleo's perspective, Cuarón is capturing much is what is most essential about his family's life during this period of his childhood.
The film opens with an extended scene of Cleo washing dog shit off the floor of the family garage; throughout the film we never see anyone walk this dog, and Cleo, who also tends lovingly to the four children, cleans the house, and prepares and serves meals, is often reprimanded for not tending to the dog's manure, as though that could easily be accomplished without neglecting her other duties. Her role with the children involves many moments of tenderness and intimacy, and the adults generally treat her kindly; during the period of this film, she is a gentle witness as the family passes through a painful period of loss. Yet no one recognizes how little they know Cleo, and they all miss signs of her joys and traumas.
Viewed from this lens, we begin to tap into the sights and sounds that bind Cleo's life with theirs -- and connections that make sense of the culture beyond this family. A marching band wanders through the streets; the father maneuvers with precision the new and huge family sedan into their impractically small city garage between puffs on a cigarette; Cleo hears the mother worrying aloud to a friend about financial pressures and lying to the children to protect them from painful news. Cleo travels across town to locate the former boyfriend who swiftly abandoned her upon learning that she was pregnant, to a neighborhood without sidewalks, where dogs roam freely, where a browner population is vulnerable to powerful interests who can persuade young men to administer the violence that keeps inequality in place.
Yet this is no "Upstairs Downstairs" or "Downton Abbey." Filmed in gorgeous black and white, each shot feels profound and packed with significance; Cuarón's camera doesn't miss much, yet balances social awareness with compassion. And the sound design captures so perfectly the sort of quiet that one can find in an urban neighborhood, the chaos of a hospital emergency room; the complex mix of music and voices one hears in urban spaces; the roar of ocean waves threatening to engulf children who have wandered out too far. I can't think when I have seen a film that conveys so much, yet preserves a sense of mystery.