Tornado Hit
Rare EF-0 twister leaves path of destruction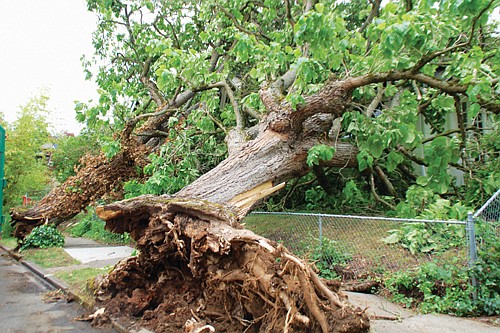 Power was restored and debris began to be cleared for northeast Portland residents Tuesday morning after an extremely rare tornado uprooted several trees, damaged vehicles and houses, and cut off power for over 2,000 people early Monday evening.
The National Weather Service confirmed that an EF-0 tornado touched down in northeast Portland's Alberta and Vernon neighborhoods, traveled about a mile, and ended in the Alameda neighborhood. The maximum width of the path was 40 yards and its estimated peak wind was 80 miles per hour.
Amazingly, no injuries were reported. The tornado only lasted about six minutes and its classification was on the lowest end of the enhanced Fujita scale, but it still wrecked mayhem for a stretch of blocks along Northeast Going Street, between 16th and 22nd Avenues.
In one case, two uprooted trees—each about four feet in diameter—fell on top of a single house, damaging both the property and adjacent sidewalk. The tornado also tore shingles and chimney bricks off of roofs.
"This is quite remarkable," said Harriet Watson, who lives near Northeast Fremont and 38th, upon inspecting the damage close up for the first time
Watson did not witness the tornado form herself, which occurred on her 73rd birthday, but saw "a very dark steely gray sky" loom ominously shortly before it hit.
"We had just a smattering of rain on the windshield and we thought, there's going to be a downpour, but we never thought there'd be a tornado." she said.
"It's freaky. It's crazy," added Courtney Ferguson, the neighborhood mail-carrier for US Postal Service, who also reported seeing hail in the Hollywood District at the time.
Another woman, who lives just one block from the double felled trees, said she remembered the wind blowing unusually loud that evening.
"I thought of a tornado, and I'd never been through a tornado, but that's sort of what it sounded like," Sarah Meacham, 48, said.
Wendy Katila was finishing up dinner at Grain and Gristle, near the corner of Prescott and 16th Avenue, when it struck.
"We thought…there was some sort of major car accident or that kind of thing and were completely flabbergasted to see these trees all over this neighborhood down," she said. "My heart goes out to these people because…not only are these trees obviously going to go, they're magnificent trees, but obviously they have damage to their house."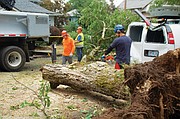 The National Weather Service used a combination of reports from eye witnesses and Doppler radar to determine the path and strength of the extreme winds.
The tornado was the fifth on record within Portland city limits in the history of record keeping.
National Weather Service Meteorologist Matthew Cullen told the Portland Observer another EF-0 tornado occurred in October on the north side of town, which contacted the ground for just a minute or two and caused mostly minor damage in an industrial area and some felled trees.
An EF-3 tornado in April 1972 was the only other tornado in Portland before that, and it caused great harm in Vancouver on the same day, killing six and causing millions in damage. It had formed in Portland and crossed the Columbia River into Washington.
There were also tornados in February of 1904 and July of 1907, whose existence was uncovered through local research, Cullen said.
He added that tornados, though rare, are one of many weather hazards people should be cautious about in the Pacific Northwest.
"Tornados, while they don't occur every year necessarily, in town, they can occur and people should always remain prepared for that possibility when they see strong showers or thunderstorms and review their safety plan for their home and for their workplace," Cullen said.