Alder Food Carts Move
Group offered help on new location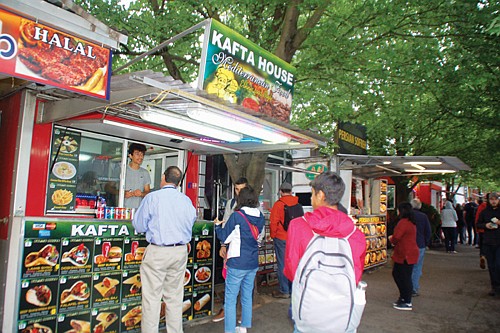 Some of the food carts of the iconic Alder Street Food Cart Pod, downtown, have found a temporary home in the old downtown Post Office parking lot, thanks to an anonymous donation that covered towing costs and support from the city, with the hopes of securing a new permanent home along the North Park Blocks.
The collection of food carts at Southwest Alder and 10th Avenue were the first to give Portland a reputation for being a food lover's paradise without the trappings of brick and mortar restaurants. Sunday they were all cleared out after 20 years to make room for a new Ritz-Carlton hotel, which began construction Monday.
"It's sad to move but the reality is, this is private land, we have no way to control the owner's actions," Michael Xu, who helps run Shanghai's Best Street Food, told the Portland Observer.
He added that he's appreciated the help that's been offered by city officials so far, "They reacted so fast. That's so lucky we have them to help us."
A group of businesses, non-profits and the City of Portland—spearheaded by Commissioner Chloe Eudaly—is attempting to create a space for the food carts on the North Park Blocks between Burnside and Northwest Davis, with a tentative move-in date of July 15
The effort is backed by a Go Fund Me page that aims to raise $300, 000 to cover the costs of towing, electrical, and to develop a long-term solution for food carts in Portland.