Public Safety Support Hires
7/3/2019, 10:41 a.m.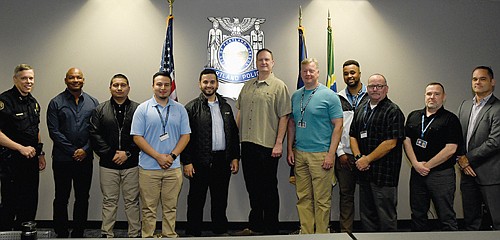 The Portland Police Bureau has hired a new group of nine Public Safety Support Specialists and five new Police Officers. The new hires will undergo orientation and training before being assigned to the city's police precincts.
Portland Police Bureau members are working diligently to hire a diverse team of sworn officers as it faces a shortage mostly due to retirements. The public has been asked to help in recruitment and the police bureau has revamped its hiring process, and lowered some educational standards, to gain more applicants.
"We are very excited to bring these high caliber individuals on board in the Public Safety Support Specialist and Police Officer roles," said Chief Danielle Outlaw. "We invite anyone considering a career in public service to apply to join our team as we continue to provide the highest quality public service in Portland."
For the latest information on how to become a Portland Police Officer, including salary and benefit information or to apply, visit joinportlandpolice.com. The bureau will also hold another hiring workshop on Saturday, July 20 for information on the PPB application process and physical ability test required.