All Hands Raised
Homegrown school leader takes helm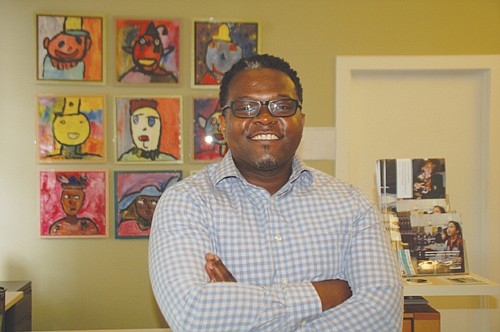 Lavert Robertson, a seasoned African American education administrator at Portland Public Schools who was raised in northeast Portland, has taken the helm as chief executive officer for All Hands Raised, a non-profit organization working to improve learning outcomes county-wide for kids of color.
Robertson, formerly the principal at north Portland's George Middle School and a principal in the district for the past seven years, already had experience working with All Hands Raised on things like improving attendance and working on disproportionate discipline issues for kids of color.
He said seeing from the ground the way All Hands Raised builds relationships with other organizations to work collaboratively to improve student outcomes made him "in awe of what they do."
"When the CEO position came open, just reading through of what they were looking for in a CEO and just thinking about my affiliation and my continued support of the organization, I thought that this would be a perfect time to challenge myself, to step into a role of not just supporting single communities, but to support the entire county," Robertson told the Portland Observer.
Robertson is replacing the former All Hands Raised CEO for 11 years, Dan Ryan, a former school board member and schools advocate.
Robertson managed a $3 million budget and staff of 50 at George Middle School over the past four years. The school's partnership with All Hands Raised during the time was successful in reducing disproportionate discipline actions for kids of color. In recent years, the school's overall discipline referrals dropped by 57 percent—and 64 percent for African American males, according to All Hands.
Originally from California, Robertson moved to Portland, where his grandparents were from, at a very early age.
Things weren't always the greatest being raised by his mother in Los Angeles in a single parent home. That changed for Robertson when he came to Portland, he said.
Tears fell easily from Robertson's eyes as he recalled with fondness the "many great people" who helped support him as a child during the 13 years he attended Portland Public Schools. That has included many respected members of the African American community in Portland, including Dr. Harriet Adair, a principal at King Elementary School who Robertson called a "big figure," and Paul Coakley Sr., who Robertson described as an "outstanding principal" of Tubman Middle School.
Self Enhancement Inc. was also a key organization that connected Robertson with "people who look like me and one day I could aspire to."
"Growing up with a single mom, her biggest goal and dream in life was to ensure we did better than she did," Robertson said. "And so although she struggled with education, she really forced us to honor and respect education. And so like I said having role models in elementary school meant a lot to me."
After graduating from Jefferson High School, Robertson completed a Master's degree and returned to King Elementary school to become a first grade teacher. There he said he learned a lot by being surrounded by colleagues who were many of his former teachers and mentors as a child.