All Hands Raised
Homegrown school leader takes helm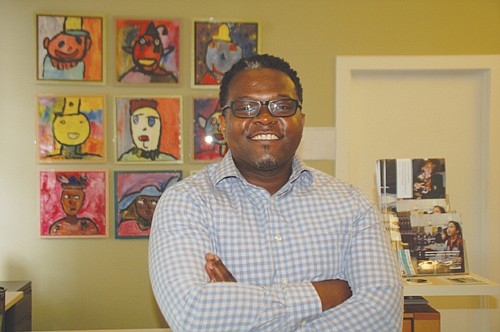 Robertson said he was inspired by the huge changes he could make in a child's life—like bringing them from being unable to know all the sounds of the alphabet to being a full blown reader by the end of the year—to do things on a larger scale, though administration.
After spending a year at Whitaker Columbia Middle School, where he supported that community at the Whitaker Lakeside site in northeast Portland the year it closed in 2005, Robertson moved east across the country to gain experiences in a school district struggling with equity issues.
The Champaign Unit 4 School District in Illinois had entered into a federal consent decree that was spurred from a lawsuit filed by African Americans to the U.S. Office of Civil Rights in 1996. Robertson was hired after community protests commenced in response to one-way busing of black students and equity concerns in student achievement, programming, facilities and educational services.
As part of the agreement between the district and federal government, initiatives to improve academic outcomes for African American students were implemented under the oversight of a court monitor.
Robertson joined a team of educational leaders hired to be change agents. Though he found the work fulfilling, Robertson and his wife decided to move back to Portland after the birth of a child.
"I loved the work I was doing but I didn't want to raise my child in a city that I kind of saw as being black and white," Robertson said, explaining that the main avenue in the Champaign community that separated north from south, University Avenue, "also separated different income levels as well."
Back home, Robertson was able to land a job at Jefferson High School, as the Arts and Technology Academy Administrator, which he held for a few years, before transitioning to Franklin High School.
At that time, an initiative called Advanced Scholars Program, started by Susan Bartley and Pam Garrett, was aimed at closing the gap for the number of students of color participating in Advanced Placement classes and coursework at Franklin by connecting them to teacher-mentors.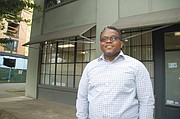 Robertson offered being a mentor for the program, even though he was an administrator, he said. A couple years after he left, he was informed of the ongoing success of the program, there were more students taking AP junior English than taking regular junior English.
After four years at Franklin, Robertson was promoted to be the principal at Cesar Chavez K-8, which he held for three years, and was later tapped by his supervisor to become principal of George Middle School.
"It's been a great four years; we saw a lot of growth. We initiated a lot of great programs at George. Really developed our STEM identity, great parent partnerships, parent affinity groups."
When asked what he's looking forward to tackling as CEO of All Hands Raised, Robertson said: "I think it all starts with equity."
"We will not abandon the things that we've already started. There's a lot of great initiatives happening around attendance, around disproportionate discipline. There are site teams in several districts on the ground doing the work with the staff of All Hands Raised to look at data because everyone's story is different."
All Hands Raised began in 1996 and was originally operated through Portland Public Schools Foundation, with parent-led advocacy and funding for Portland Public Schools. It now operates independently.
The organization works to bring objective data, broken down by race and other demographics, to schools all across Multnomah County and partnering organizations, to improve educational outcomes for kids of color.
Much of the work is behind the scenes, All Hands Raised Vice President of Communication Jeanie-Marie Price explained. It focuses on connecting already-existing organizations serving kids—such as non-profits, after school programs, and culturally specific programs--to create strategies for tackling things like absenteeism, disproportionate discipline, and placing students into college or on a career path after high school.
"It's more about 'believe the wisdom on the ground,' and that's one of the things we're so excited about for Lavert's leadership," Price said. "He's been on the ground and he's been a principal in the buildings where we're doing this continuous improvement work and he will be able to help build more pathways to scaling that work and taking more wisdom from the ground and influencing policies and budgets."