On Police Response to Protests
Letter to the Editor
7/10/2019, 11:33 a.m.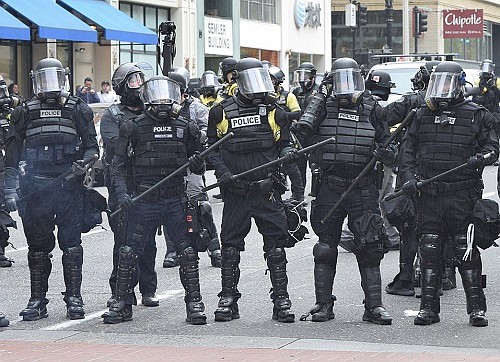 Editor's note: The following is an open letter to Portland Police Chief Outlaw and Mayor Wheeler from members of Portland Copwatch:
We are very concerned about the police and city's response to the protests on Saturday, June 29.
One primary concern is the statement which came from Daryl Turner at the Portland Police Association asking that you take the "handcuffs" off of the rank-and-file officers so they can act with "strong and swift enforcement action." This echoes the highly inaccurate complaints by those who wanted the US to step up its violent attacks in Southeast Asia saying that the Vietnam War was fought with "one hand tied behind our backs."
We appreciate that the mayor took time to call out the PPA's comments as false and misleading. However, when he says he condemns violence, it rings hollow when essentially saying the police get to decide how to attack demonstrators. The state, we've noted before, declares a monopoly on violence.
Secondly there is the issue of the unsubstantiated rumors about quick drying cement being put into milkshakes that were thrown. But according to one article, adding such a substance into a sugary drink would chemically negate the use of cement. The article also debunked the rumor as false and exposed other misleading tactics such as the use of photographs taken in different places long ago which purported to be current and local.
The fact that an officer would post something on social media as though this were a substantiated fact with no concrete evidence (pun intended) is not "responsible" as Mayoral Public Safety Advisor Robert King put it. The Bureau is constantly telling people in the community not to spread rumors and assume wrongdoing immediately after police shootings-- even as the facts have been harder to come by in the last several years.
If the PPB is going to ask for an "innocent until proven guilty" standard for themselves, surely at the very least any post about such rumors/suspicions can be couched in terms such as "allegedly" or "suspected" rather than stated as facts.
Related to this point is the question of why the mayor's aide (a former captain at the PPB-- and a former president of the PPA) is making statements about the police action rather than the PPB spokesperson or the chief. We note that the chief did describe the reality that some people think the police go too far while others think they don't go far enough.
Finally, it should go without saying that we are always concerned when we see the PPB using pepper spray and (reportedly) pepper ball guns against entire crowds of people. While there were some small disturbances and clashes, several people we know went downtown and didn't witness any violence. This brings to mind whether there was, again, an over-reaction by the police despite the fact that Officer Turner thinks his colleagues were "handcuffed."
Dan Handelman, Regina Hannon, Peter Parks and other members of Portland Copwatch