Democrats Defend Congresswomen
Trump's racism called worst in history
7/16/2019, 3:57 p.m.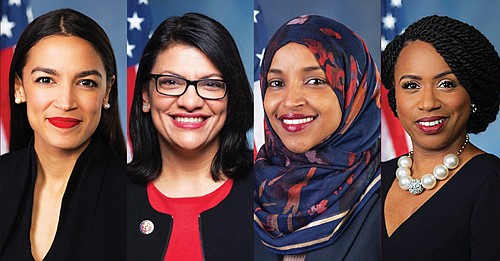 House Democrats introduced a resolution Monday condemning the president for racist comments directed at four newly elected U.S. Representatives of color in Congress, comments widely condemned by Democrats and civil rights activists and historians.
Trump said Monday that — Reps. Ilhan Omar of Minnesota, Alexandria Ocasio-Cortez of New York, Ayanna Pressley of Massachusetts and Rashida Tlaib of Michigan — hate the United States and Israel and should leave the country if they were not happy here. On Sunday, Trump tweeted the Democratic lawmakers, all but one of whom were born in the United States, should "go back" and try to fix the "crime infested places" they "originally came from" before telling the U.S. government how to handle its problems.
House Democrats introduced a resolution Monday condemning the president for the comments, and a black Democratic lawmaker from Texas, says he will again force a vote on articles of impeachment against the president by next week, citing him as a bigot.
Rep. Al Green said Trump's latest tweets were the impetus for his third effort to push through an impeachment vote. In 2017 and 2018, when the Republicans ran the House, he cited similar controversies, including Trumps comments about demonstrators in Charlottesville and his description of African nations as "shithole" countries.
About 60 of Greens' colleagues joined him to support him in the previous impeachment votes, but the moves were easily defeated. His bills drew no support from Oregon's Congressional delegation.
Also on Monday, a Pulitzer Prize-winning historian said Trump has joined Andrew Johnson as the most racist president in American history.
John Meacham said Trump has stoked racism with both his recent comments as well as his "birther" lies about former President Barack Obama.
He said that America has never been about the concept of birthright but rather the belief that "all men are created equal," as stated in the Declaration of Independence.