Demanding Police Accountability
Activists want seat in new police union contract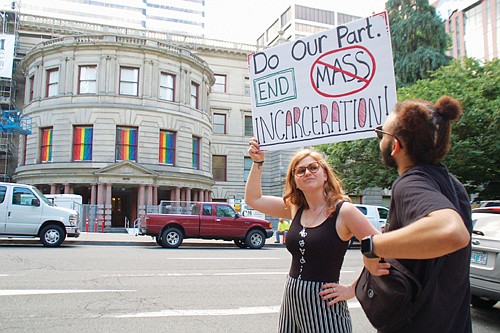 Portland activists are calling on the city to reverse course from the past and allow meaningfully public participation and civilian oversight during its upcoming contract negotiations with rank and file police officers negotiating a new contract over the next year.
"Many of the city's most volatile issues will be at play, as organizers aim for a milestone 2020 contract victory that could pave the way for some long overdue repair in trust between the police and many Portland citizens," reads a statement from Portland's Resistance, the local protest movement that was formed in reaction to the presidential election of Donald Trump in 2016.

Activists from other civil rights groups like Dr. LeRoy Haynes of the Albina Ministerial Alliance Coalition for Justice and Police Reform, agree that the public should have an opportunity to listen in and participate in the contract negotiation.
"They should be open, publicized meetings," Haynes told the Portland Observer.
In 2016, community activists were forcefully removed from City Hall during police contract negotiations under then-Mayor Charlie Hales. Commissioner Jo Ann Hardesty, who was then the President of the Portland NAACP said the incident is what inspired her to run for her current post, though she did eventually get let in to the proceedings. It also spurred at least one lawsuit from a woman who claimed she merely stumbled upon watching the incident unfold when she was twice struck from a police officer with a baton. Portland's Resistance held a rally last week to put a spotlight on the issues.
Among them was Shelly Morgan/Hall of Pacific Northwest Family Circle, a group representing family members of those who have been killed by police.
Morgan/Hall's son, Brad Lee Morgan, was fatally shot by police in 2012 after threatening to jump from the top of a downtown parking garage and pointing what was later determined to be a replica firearm at officers.

"I wish they'd do the walk away method. If you're mentally ill, and you think you're going to be in danger, especially the cops, they need to walk away. They don't need to be there. Let the mental health workers come out and help you," Morgan/Hall said to the crowd of demonstrators, who were flashing protest signs at motorists and passersby in front of City Hall. She added that dealing with the incident caused her mental instability, too.
"I don't care if you're on the street or whatever. But cops shouldn't kill us because we're mentally ill, or we're homeless, or we're just in crisis."
She lamented that she could no longer give her son a hug, and that he could no longer hold the eight month son he left behind.
James Ofsink, an organizer with Portland's Resistance, told the Portland Observer that a new police contract, which only gets negotiated every four or five years, should require stronger community oversight and police accountability.
Currently police cannot be compelled to give testimony for a misconduct allegation to the Independent Police Review board, nor does the board—designated as a community oversight entity—have a role in use of deadly force cases, according to the current contract, Ofsink said. And those are just two of many other policy decisions that are "baked into" the current contract, he added.