Highland Welcomes New Pastor
7/17/2019, 8:49 a.m.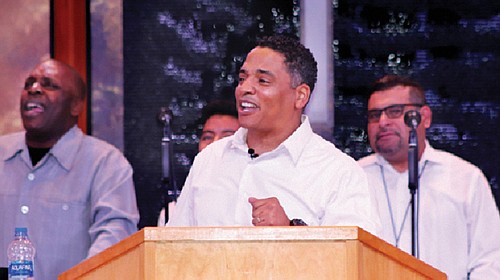 Dr. Shon Neyland, a charismatic religious leader who was raised in New Orleans and served as a military chaplain in Hawaii and a veteran of the wars in Iraq and Afghanistan is the new senior pastor of the Highland Christian Center in northeast Portland, a historically black and diverse congregation that was most recently led by their beloved pastor Dr. W. G. Hardy Jr. who died last year.
Originally trained as an industrial engineer, Neyland served in the Air Force as a nuclear launch officer and as an aerospace flight commander in the Milstar Communications Satellite program. At the same time, he and his wife of 34 years, Madeline, have served as devoted evangelicals, finding churches in communities from England to Abilene, Texas.
Neyland comes from a religious family. His dad was a church deacon and musician and his mom served as a worship leader and singer.
Highland church leaders say there is an atmosphere of joy and relief in having new leadership to fulfill the late Pastor Hardy's vision of a church founded on firm biblical principles and an active involvement in the community.
Neyland has authored four books. His latest "The Courage to Stand: A New America" touches on the state of our society today, exploring race and religious stereotypes. He writes, "It is time to eliminate the antiquated race and color identification terms of "black" and "white" and begin a new nomenclature--we are Americans!"
He describes his philosophy of life as centered on unconditional love and a positive attitude, qualities that comes through his exuberant preaching style, a warm sense of humor and a dazzling smile.
Pastor Neyland and his wife have three adult children and one grandchild.