On Stronger Footing
Q Center support serves diverse community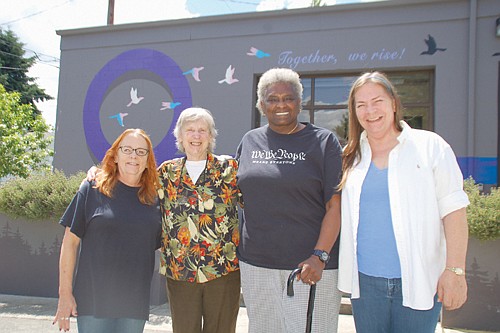 The Q Center, a nonprofit providing services and a safe space for Portland and southwest Washington's LGBTQ+ community, has just completed an intense fundraising effort to complete much needed maintenance to their building on North Mississippi Avenue, but advocates say continued community support in funding and volunteering are essential to keeping the Pacific Northwest's largest LGBTQ+ community center up and running.
"If they have that itch to help, that itch to serve, show up, say I'm here to help or volunteer," pleads Busch, a two spirit trans-woman who is a Q Center board member and who also helps lead a Friday night trans women support group at the center. "We're a 503-c non-profit organization and we have a balance sheet that sometimes dips toward the red line. We do not like to have much experience with that, so yeah, time, talent, and treasure is all that we look for here to be able to help."
The Q Center's recent Resilience Campaign raised over $100,000 for building improvements to its community space; an effort executive director Cameron Whitten called a "resounding success."
Thanks to support from anonymous donors and a grant from Prosper Portland, the city's economic development agency, the Q Center reached 75 percent of its fundraising drive in early June, then sprinted to raise an additional $45,000 to inch past the goal.
The new resources will pay for improvements to a ceiling that is in disrepair throughout the building, some drywall work and electrical work, and other upgrades, estimated to be completed by June of next year, the first upgrade to the building in 10 years, Busch said.
Whitten said the organization is launching a "Colorguard" membership program this month that is especially geared for community members to make monthly contributions of $10 or more to help keep the facilities and services running. Their goal is to recruit 40 monthly donors by the end of summer.
Ricki Coleman, a retired former Q Center volunteer, said she looks forward to the continued support for helping keep a valuable community resource open.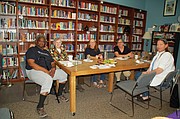 The Q Center was created to provide a culturally diverse and emotionally and physically safe place for members of the LGBTQ+ community, an outreach that helped Coleman find footing as a trans-woman when she moved to Portland 11 years ago.
The fact that the Q Center, which was founded in 2005, had a phone number for people in the LGBTQ+ community to call and find resources, was fundamental to starting a life here, Coleman explained. She later volunteered to answer similar calls for people interested in moving to Portland on behalf of the Q Center, as a receptionist.
"They ask about housing, they ask about the community in general: is it safe to be out and visible? And then people who walk through the door the first time, that is, that's pretty special. That's what gets me right here," Coleman said, tapping her chest.
Margaret Ann Jones, a senior African American community activist and co-chair of the Resilience Campaign, said the Q Center was key to finding acceptance.