Meyer Memorial Trust Starts Albina Build
New space to strengthen community ties
7/31/2019, 10:05 a.m.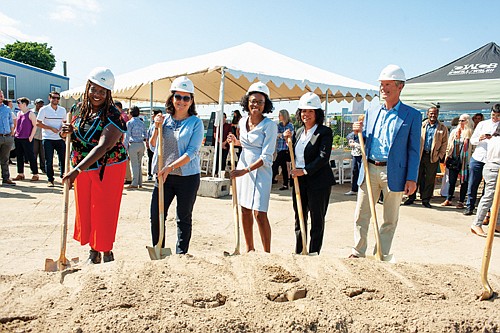 Meyer Memorial Trust, the second largest private foundation in Oregon, broke ground Monday for its new headquarters on the corner of North Tillamook and Vancouver Avenue, purposely moving into a historically black neighborhood that has faced waves of upheaval and displacement to better a community it supports and serves.
Meyer Memorial Trust President and Chief Executive Officer Michelle J. DePass led the ground breaking celebration on the site of the future 20,000-foot, three-story building, just northeast of the Broadway Bridge in the Albina community. The site will also contain a library, education garden and community meeting space.
"Establishing a permanent home in historic Albina is one way to show Meyer's commitment to building partnerships and connections that help to make Oregon a flourishing and equitable state," DePass said. The Meyer Memorial Trust leader was hired last year, a former assistant administrator for the U.S. Environmental Protection Agency in the Obama administration. She is not related to newly elected Portland School Board member Michelle DePass.
Established by the late Fred G. Meyer of Portland, the founder of Fred Meyer stores, the Meyer Memorial Trust announced last year it was planning to move 50 employees from leased office space in the Pearl District to the new site. Fred Meyer himself lived in the neighborhood when he first established his business, foundation officials said.
The headquarters project is designed to strengthen the connections between the foundation and local communities, according to Meyer Memorial Trust officials. The building is designed to achieve a LEED v4 Platinum certification for sustainability and the use of locally available renewable materials. The plans also include a process for engaging women and minority owned firms in both the design and construction phases.
The Meyer Memorial Trust also plans to have at least 43 percent of the construction built by women and minority owned subcontractors. Additionally, O'Neill/Walsh Community Buildings plans to have at least 30 percent of their journey and apprentice hours filled by minorities and 10 percent of the hours filled by women.