TriMet Bus Operator of the Year
Driver takes pride in serving public
7/31/2019, 10:36 a.m.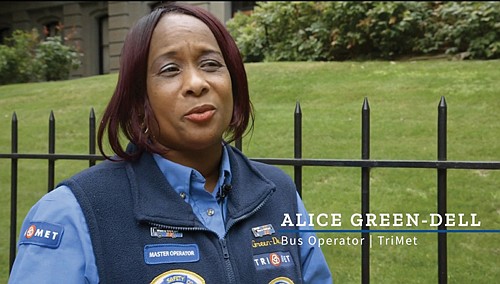 She has eight safe driving awards from the National Safety Council to go with her love of serving the public. Now Alice Green-Dell is TriMet's Bus Operator of the Year.
Green-Dell joined TriMet in 2007 and just achieved Master Operator status, recognition of superior performance.
"When I'm doing something I love, I take pride in doing it," she told TriMet after being named the agency top bus driver for 2019. "I love my job, and when you love something, you cherish it."
A comment to TriMet from one of her riders during freezing weather was testament to the bus operator's skills and public outreach.
"She just kept her calm, taking it slow and steady. She was incredibly polite, wishing me to be safe as I departed. She had a stressful job this morning and handled it incredibly well! Hats off to her!" Megan from Line 4-Fesseden wrote.
Green-Dell describes herself as a people person. She said she joined TriMet to serve the public and interact with people of all different cultures. Day in and day out, she shows her riders how much she cares.
"I was driving the #12, and an elderly lady took my bus from downtown by mistake," she remembers. "After I dropped her off, I worried all the way to Sherwood because it was my last trip of the night. On my way back, I changed my route because I had feeling she'd still be standing there. She was. Oh, how happy she was to see me! I picked her up and took her to Center Garage where I got my car and took her to north Portland. She hugged me. She thanked me. She cried tears of joy. She said I was her guardian angel."
TriMet also named Cynthia McClean as Mini-run (part time) Operator of the Year and Neil Beaudry as Rail Operator of the year. The winners were selected by a vote of their peers.