Homeowner Fights Back:
When power pole for development placed at her house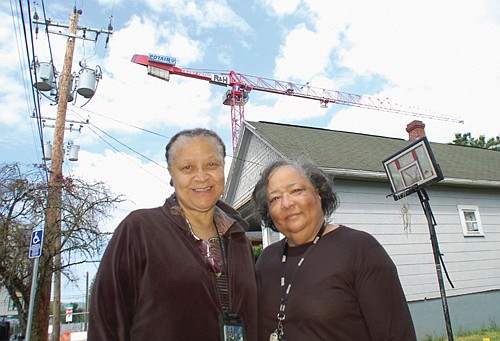 The unintended consequence of the construction of new luxury housing in inner northeast Portland left one African American homeowner and longtime resident with a transformer-mounted pole directly in front of her house, without any prior notice.
Now Portland Bureau of Transportation (PBOT) said the installation was done improperly and may make the power company move it.
"We looked into this and as it turns out the pole, where it's been installed, does not match the location that we permitted. We're currently investigating our options which could include asking or making Pacific Power to move the pole," PBOT Communications Director John Brady told the Portland Observer Monday.
The power company previously stated they were in the right-of-way to place the pole where it was and that it would cost homeowner Mary Batson an out-of-pocket expense to move it, according to documents obtained by the Portland Observer, but seemed to change their stance in reaction to PBOT's statement.
"Often in situations like this, poles are not in their final positions until the construction work is done. We will work with PBOT to decide the appropriate and approved final location of the pole," stated Pacific Power Media Spokesman Tom Gauntt via email to the Portland Observer Tuesday.
"I'm just happy to hear that," Batson, 66, told the Portland Observer. "I have never seen a pole like that in front of someone's house, and all the damage that they caused to put it there so deep. And I just had a feeling it wasn't right."
Back in February, Batson said she was notified from Pacific Power that there would be a scheduled power outage on a day when she was at work, but with no mention of a pole installation. When the outage was over, a pole with a mounted three-barrel transformer bank had been installed a few steps in front of her house on Northeast Ivy Street which was not only in line of sight from her home but broke a water main to her house, she said.
Pacific Power acknowledged the broken main was their fault and paid for the damages, which included reimbursing her for the over $1,600 water bill that ensued, plumbing costs, and other expenses, she said.
Batson also complained of a humming noise coming from the transformers, but the company has said they haven't been activated yet, so the noise couldn't be from them.
"While we appreciate her concerns about the placement of the transformers, when operating correctly they should not be a noise problem. Should noise become a concern after the transformers are in service, which will be a few months, we can look at the issues that may be causing them to be too loud and work from there," Pacific Power stated Monday.
Batson lives with her 68-year-old sister Virgie Ruiz, though Ruiz also owns a home elsewhere in the neighborhood. Batson's residence is two doors down from a new upscale, 6 story, 70-unit apartment and business complex being built called The Canyons and slated for opening in summer 2020.