Homeowner Fights Back:
When power pole for development placed at her house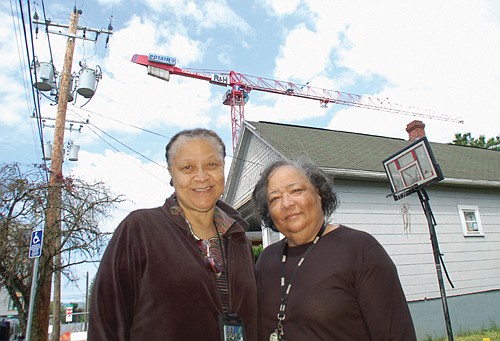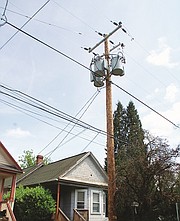 The pole had been installed on the extended property line in front of her house, i.e. the strip of grass in between the sidewalk and the street.
Another three-barrel transformer bank was placed on an existing pole near her neighbor's house, adjacent to the construction site.
Unsatisfied with the placement of the pole, Batson contacted the power company to see what could be done. At first they said they would investigate the matter but soon her calls went unreturned, she said. Batson then reached out to the city's ombudsman office, who told her that the power company did not have a permit for the pole and that its placement was temporary, she said.
Batson then contacted the Oregon Public Utility Commission which found the opposite: Pacific Power did have a permit and the pole was permanent. In documents from the commission, the utility maintained the pole's placement was "within our right of way and standards, to support the construction of a new development in the area."
The utility also told the commission it would charge the homeowner "in excess of $20,000" to have it moved somewhere else on the block.
Batson rejected the offer.
"I don't have $20,000 to pay them," Batson said.
Representing the city's transportation agency, Brady said the pole's placement didn't do enough to avoid being a nuisance.
"[P]oles should be placed on the property line between buildings to avoid having a pole in front of someone's house, so you don't have as many issues with vision obstruction…that's the sort of standard practice, is to put it on the property line between buildings."
Pacific Power has acknowledged working with Batson on the issue for several months. They cited city zoning ordinances that allow higher density housing, including where Batson lives, as presenting "many complex issues, including how to increase the power capacity in an area" to accommodate new developments in existing neighborhoods.
Batson and Ruiz grew up in northeast Portland, eye-witnesses to the urban renewal projects that have razed homes in inner north and northeast Portland since the 1960s.
"Due to gentrification, I'm one of two black homeowners on Ivy Street and feel this is racial. I grew up a few blocks from this neighborhood and remember when the Emanuel Hospital and the freeway came through and decimated our neighborhood forcing people to sell their houses for very little. We had no way to fight big business and the city because we were poor with no one to help. I feel this is happening all over again," Batson said.