Market Awash in Pot
New limits considered on supply and demand
6/5/2019, 7 a.m.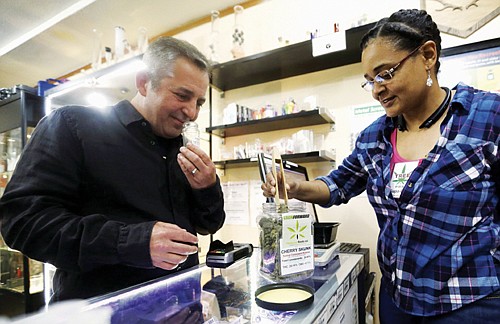 Oregon is awash in pot, glutted with so much legal weed that if growing were to stop today, it could take more than six years by one estimate to smoke or eat it all. Now, the state is looking to curb production.
Five years after voters legalized recreational marijuana, lawmakers are moving to give the Oregon Liquor Control Commission more leeway to deny new pot-growing licenses based on supply and demand.
The bill, which passed the Senate and is now before the House, is aimed not just at reducing the huge surplus but at preventing diversion of unsold legal marijuana into the black market and forestalling a crackdown by federal prosecutors.
Supply is running twice as high as demand, meaning that the surplus from last year's harvest alone could amount to roughly 2.3 million pounds of marijuana, by the liquor commission's figures. That's the equivalent of over 1 billion joints.
Across the state, the weed is cultivated in a multitude of fields, greenhouses and converted factories, with 1,123 active producer licenses issued by the OLLC over the past three years.
The legislation could be a lifeline to some cannabis businesses that are being squeezed by market forces.
Retail prices in Oregon for legal pot have plummeted from more than $10 per gram in October 2016 to less than $5 last December. At the same time, smaller marijuana businesses are feeling competition from bigger, richer players, some from out of state.
Officials worry that some license holders will become so desperate they will divert their product into the black market rather than see it go unsold.
Opponents say the proposed law will drive growers who are denied licenses into the illegal market, if they're not there already.
Oregon puts no cap on the number of licenses that can be issued. Last June, the OLCC stopped accepting applications so it could process a months long backlog. But under current law, it has no specific authority to say no to otherwise qualified applicants.
--Associated Press