Lining Up for Juneteenth
6/12/2019, 2:06 p.m.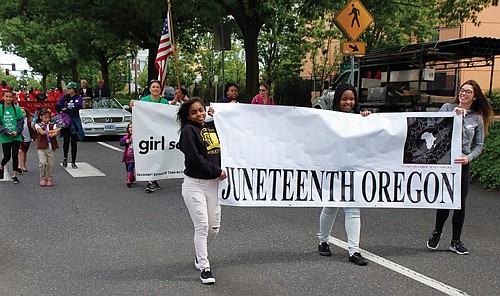 The Juneteeth Oregon Celebration is a great way to celebrate diversity, learn about our history, and experience in the sharing of cultures.
Free to the community, the annual event makes its return on Saturday, June 15, kicking off with an 11 a.m. parade along Northeast Martin Luther King Jr. Boulevard and Russell Street and continuing all day until 7 p.m. at the Legacy Emanuel Hospital Field on North Russell and Williams Avenue where there will be vendors, food and entertainment and children's activities.
Juneteenth encourages the community to learn from one another in order to facilitate collaboration and cooperation. Oregon's ties to Juneteenth, a national celebration for the ending of slavery in the United States that originated in Texas, was started in Portland 45 years ago by the late and beloved community leader Clara Peoples.
For more information, visit juneteenthor.org.