Reparations Debate Taken Up in Congress
Lingering racial disparities drive discussion
6/20/2019, 2:09 p.m.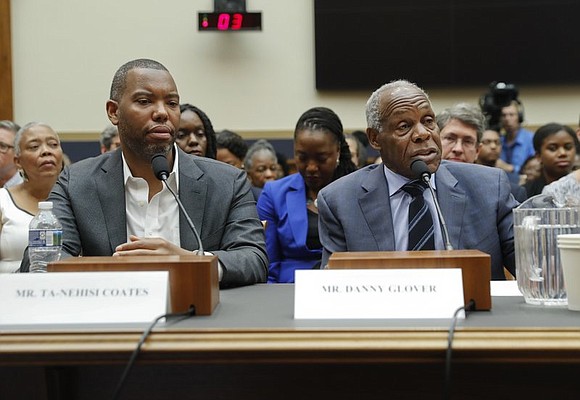 "None of these things can be achieved through reparations for slavery," said Hughes, a writer and student at Columbia University who said he is the descendant of blacks enslaved at Thomas Jefferson's Monticello.
The Democratic legislation, which would set up a bipartisan commission to study the issue, spotlights a national conversation over the legacy of slavery. Several of the party's presidential candidates have endorsed looking at the idea, though they have stopped short of endorsing direct payouts for African Americans.
House Majority Leader Steny Hoyer, D-Md., on Wednesday called reparations a "serious issue" and said he expects the resolution will see a vote in the House.
While reparations has been moving toward the mainstream of the Democratic Party, the idea remains far from wide acceptance. And the panelists themselves, mostly black, differed on what reparations should look like and who should benefit from them.
In a Point Taken-Marist poll conducted in 2016, 68 percent of Americans said the country should not pay cash reparations to African American descendants of slaves to make up for the harm caused by slavery and racial discrimination. About 8 in 10 white Americans said they were opposed to reparations, while about 6 in 10 black Americans said they were in favor.
Rep. Mike Johnson of Louisiana, the top Republican on the panel, said he respects the beliefs of those who support reparations. He called America's history with slavery "regrettable and shameful."
But he said paying monetary reparations for the "sins of a small subset of Americans from many generations ago" would be unfair, difficult to carry out in practice and, in his view, likely unconstitutional.
The Republican witnesses for the hearing were Hughes and Burgess Owens, a former Oakland Raiders football player and Super Bowl champion, who recently wrote a Wall Street Journal editorial eschewing reparations.
The debate over reparations for black Americans began not long after the end of the Civil War. A resolution to study the issue was first proposed in 1989 by Conyers of Michigan, who put it forward year after year until his retirement in 2017. His portrait hangs in the room where the hearing was held.