Safe, Clean and Sober Leader Dies
Miracles Club director had life of advocacy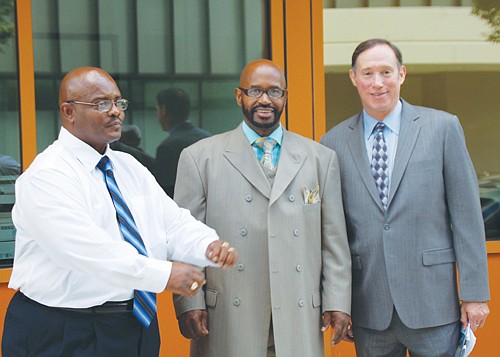 A longtime advocate of the African American community of Portland passed away Friday after an unexpected liver cancer diagnosis just three weeks prior.
Michael Booker Sr., 64, most recently helmed the executive director position at the Miracles Club, a non-profit for recovering addicts of the African American community.
"The reaction is there is a lot of sadness. The community is mourning. What I'll say just from my personal perspective is that everybody has a special story about Michael or about their relationship with Michael," Liliana McDonald, who is the Miracles Club program director and also shares a child with Booker, told the Portland Observer.
McDonald confirmed that in late May Booker was diagnosed with liver cancer and found out a week later that it was very serious.
"He was an icon of the community," McDonald added.
Before taking over as Executive Director of Miracles Club, located at Northeast Martin Luther King Boulevard near Skidmore Street, Booker worked at the House of Umoja, a residential gang intervention program, and Stay Clean, Inc., an addiction treatment facility.
Booker took the leadership position at Miracles Club in 2016, where he oversaw its substantial growth in the form of the non-profit opening a secondary residential location, Miracles Central in the Lloyd District. His leadership was needed after a previous executive director, Herman Bryant, was sentenced to three years in prison for embezzlement.
Booker was himself a longtime, card carrying member of the Miracles Club and served as a board member before then, during the organization's infancy in 1993. He later grew into a mentorship role for others in recovery.
Booker had known for years the Miracles Club founders—Sam Brown, Johnnie W. Gage, and Johnnie A. Gage, the latter of whom has now taken up the mantel of interim Miracles Club executive director.
In addition, Booker also owned a historic family business, Courtesy Janitorial, and was a Deacon at Vancouver Avenue First Baptist Church.
Miracles board member and friend of Booker Tim Wilson said the many hats Booker wore is how he was able to positively impact so many people's lives.
"[Y]ou got different people at the church, you got different people he's dealing with up in his business. And he was up there in all of those. I mean he was just the man in all of those," Wilson said.
"He was just a loyal, great man that left much too early," Mark Bradley, Booker's childhood friend, added.
Bradley and Booker's fathers were friends, Bradley explained, having survived the 1948 Vanport Flood together and later both moved to northeast Portland, where their sons were born and raised. Bradley's father owned a paint shop while Booker's father owned the family's janitorial supply store. Later, the sons took up the respective businesses of their fathers and helped each other out, lending equipment to each other for different jobs.
Bradley recalled that when his mother died, the always sharply dressed Booker took a new suit out of his own wardrobe and gave it to Bradley to wear during his mom's funeral.