Helping Make Ends Meet
SEI and Water Bureau assist low income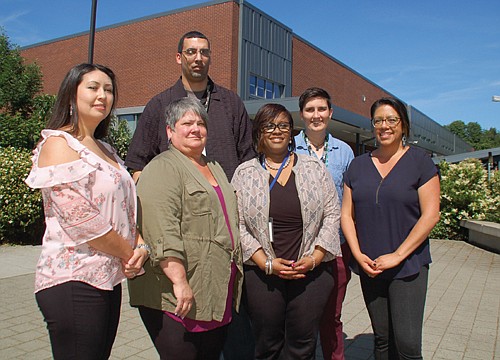 Representatives from Portland Water Bureau and Self Enhancement, Inc. are on a mission to let economically struggling families know about the financial assistance options the city utility offers, which have been increased this past year.
The Water Bureau has expanded discounts for qualifying low income households and those in temporary financial crisis, opened a relocated and more transportation-friendly office, and established community partnerships with culturally specific groups, like Self Enhancement Inc., the non-profit serving the African American community of Portland.
All those actions spelled good news for Iva, a senior citizen who was living off of a fixed social security income when health issues brought her in and out of the hospital for a six week stretch. Her water bills fell behind and she accrued late fees, unable to do much else other than focus on her health.
Thanks to Water Bureau's utility crisis voucher—which recently increased from $150 to $500—Iva was able to get back on top of her payments after she got well.
"We were able to help her out," Melissa Navarro, an SEI Intake Coordinator, told the Portland Observer.

Navarro recalled others she's helped in similar situations, including a single parent who had lost her job, living off of savings, and had been denied unemployment; and another single mom whose car, which she depended on to make ends meet working for both Uber and Lyft, suddenly needed costly repair.
"Personally, I just love my job because a lot of times people…you can see them getting teary eyed and cry, they're just so grateful. I mean, I get hugs every week so it just feels good to be able to do that type of work," Navarro said.
Though the utility crisis voucher can only be used per customer once per 12 month period, the Portland Water Bureau also now offers two tiers of discounts for customers who are at 60 percent—and 30 percent—median family income of Portland, respectively. One of the changes the utility recently made was to use city median family income, rather than go by state measures to better reflect local needs.
Though the program has been around since 1995, effective July 1 of last year, its services were enhanced under City Commissioner Nick Fish. The bureau is currently under the direction of City Commissioner Amanda Fritz.
That was also the time when the main customer service building of the utility changed from being downtown—which often incurred complaints of having to pay for parking or lack of accessibility for public transport from customers—to their new location at 664 N Tillamook St. Now there's free parking and it's along the Max Yellow Line and 35 bus line.
In addition, the agency has launched a partnership with Home Forward, Multnomah County's housing authority, to provide up to $500 in rental assistance annually to income-qualified renters living in a multi-family dwelling and at risk of eviction.
"Many people who live in apartments never get a water bill or water and sewer bill. So how do you give a discount to someone who doesn't receive a bill? We figured out a pathway to do that for people that are in crisis, that are risk of eviction, by partnering with Home Forward," said Portland Water Bureau Public Information Officer Jaymee Cuti.