Police Enlarge Hiring Window
Will now accept applicants without degrees
6/26/2019, 10:07 a.m.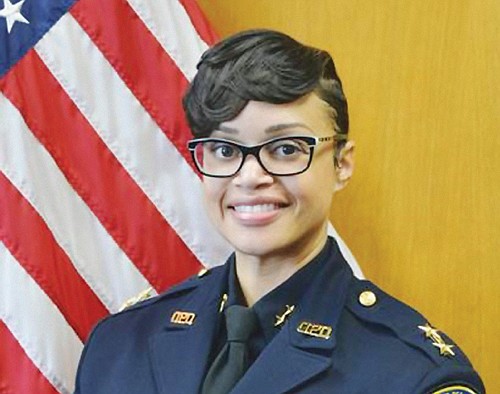 Portland Police Chief Danielle Outlaw has changed the bureau's hiring criteria to lower some standards, including college degrees, to enlarge the pool of applicants and make some progress on what the officials call a critical staffing shortage.
The Portland Police Bureau currently has 128 officer vacancies, with a large number of additional projected retirements in 2020, officials said. The changes to hiring practices is taking place as the bureau is actively recruiting and hiring officers and continues to review and refine its process.
Beginning July 1, Portland police will align with Oregon state law enforcement standards for certification, including its education requirement. The state requires a high school diploma or GED to be certified as a police officer and the Police Bureau will adopt this standard.
Outlaw said the Bureau will continue to provide incentive pay to officers who pursue higher education and earn degrees. PPB will also continue to develop training and learning opportunities to ensure all officers receive necessary education and tools to develop and advance.
The department will also align with the state in regard to the hiring test, which is administered through the National Testing Network. Currently, all applicants must take this test; effective July 1, candidates with bachelor's degrees and lateral experience will not be required to take the exam. All others will be required to pass the test within 60 days of being placed on the Bureau's eligible list.
The Bureau is also considering changes to the grooming standard policy to include, considering candidates with tattoos above the collar line. Currently tattoos are allowed below the collar, but are reviewed to ensure there is nothing that is sexually explicit, racially and/or sexually biased or could be viewed as discriminatory. This standard will also apply to any tattoos above the collar.
Lastly, the bureau is considering changing its grooming standards to allow sworn members to grow a beard as long as the beard does not interfere with the proper fit of protective equipment.
"These changes to policies were made after careful review of our hiring process in the attempt to identify potential barriers to entry," said Outlaw. "We will revisit the effectiveness of these changes after two years to determine if our hiring numbers have increased."
To learn about the entire hiring process, visit joinportlandpolice.com.