A Reversal of Fortunes
Making sure new business side of pot is diverse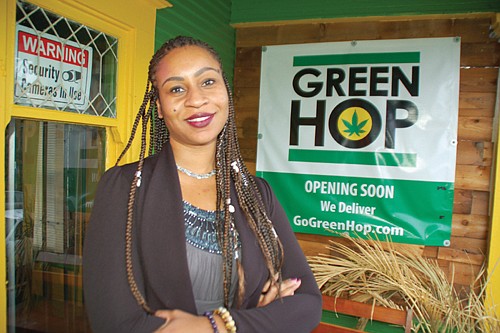 The rise and support for two black-owned Portland businesses in the new legal cannabis industry shows how the city is fulfilling its restorative justice and reparations goals to mitigate past harms done in communities of color from America' s historic war on pot.
In the first year that Portland's trail blazing cannabis tax revenue policy has been in effect, two African American-owned marijuana businesses have received financial support for specific programs that can help them get a leg up in a new industry that is overwhelmingly dominated by whites.
Green Hop, a dispensary in northeast Portland and incubator for cannabis professionals of color; and Green Box, the first legal cannabis subscription box delivery service to get officially licensed in Portland, each received $30,000 grants from the tax revenue.
It's a move City Commissioner Chloe Eudaly called "just one step toward tangible restorative justice."
Nicole Kennedy, the co-owner of Green Hop, told the Portland Observer the grant has helped her business greatly.
"We've been able to move into a better position, re-assess our needs, and be able to meet some of the needs we already had, like marketing and things like that. So that's been amazing," Kennedy said.
Kennedy runs the dispensary with her business partner Karanja Crews, and together, they launched what it called "the world's first hip-hop dispensary," at its grand opening last year.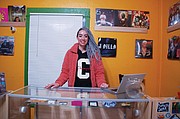 Green Hop also runs an educational program for youth of color who are of legal age under Oregon's legal marijuana laws, and are interested in working in the cannabis industry. Green Hop Academy facilitates hands-on training in the cannabis profession, classes, as well as setting up students with real-world internships in every area of the cannabis business—from growing to budtending.
Economists have found disparities between the success rates of white and black businesses is in large part due to the smaller amount of capitol that's accessible to black entrepreneurs. Acording to an investigation by Buzzfeed in 2016, less than one percent of cannabis dispensary owners nationwide were black.
In Portland, the NuLeaf Project was founded by an African-American couple to help communities of color thrive in the legal cannabis industry. The nonprofit was selected by the city to manage and disperse grants funded by the city's marijuana tax.
"NuLeaf and the City of Portland are addressing the economic harm caused by cannabis criminalization while also funding growth businesses that are typically overlooked," said Jeanette Ward Horton, NuLeaf's executive director.
Adrian Wayman, the founder and chief executive officer of Portland's Green Box delivery service, described how coming up short on capital was something that inhibited the growth of his company. Getting financial support from Portland's dispensary taxes was a leap forward and an unbelievable opportunity, he said.
The economic justice investments Portland makes from its three percent cannabis tax, an initiative that was passed by voters in 2016, is also meant to reverse disparities in communities of color in terms of the impacts from marijuana criminalization in the past.
In the nine years prior to cannabis legalization in Oregon, African Americans made up 21 percent of cannabis-related arrests in Portland while accounting for just six percent of the city's population. In addition to investments in cannabis businesses and jobs training, revenues from the marijuana tax are meant to help expunge cannabis convictions. Portland is the first government in the U.S. to leverage cannabis tax revenue in this way.
Kennedy, who grew up in the neighborhood where the dispensary now stands, said seeing this kind of community reinvestment is meaningful to her after seeing the area go through so much change over the years.
"I know people very close to me who have been impacted by the war on drugs," Kennedy said. "Being able to be here and to have funds reinvested back into the shop has just been very powerful to me," Kennedy said. "We're reinvesting it back into the shop to dig our stake deeper into the ground to say we are going to stay, we're going to be here."
In a video on NuLeaf Project's website, Wayman recalled the irony of recently getting finger-printed to get his retail license to sell cannabis for his delivery service, remembering that 10 years earlier he had been finger-printed after getting arrested for pot possession.
"And now, today, fast-forward, I'm receiving a grant to sell the same thing that I got arrested for. Like, that's mind blowing, that's a true full circle. It shows that the community wants to fix the wrong," he said.