Emotionally Raw
PSU Board faced with pleas to disarm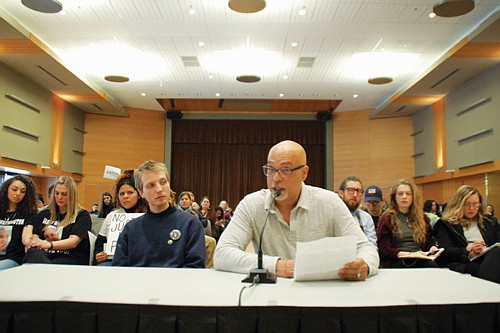 Portland State University's Board of Trustees has a lot to digest after an emotionally raw meeting with the campus community to discuss a new report and investigation of the PSU security office and its controversial policy to arm campus police officers.
The 209 page report, done by Vermont-based consultant firm Margolis Healy, was criticized by students and faculty during an open comment session before the board on Thursday.
The investigation was spurred by the June 29 death of Jason Washington, an African American Navy veteran, postal worker, and grandfather who lost his life when a night of drinking with friends escalated to what the board of trustees called a "tragedy."
Though Washington was trying to break up a fight at the Cheerful Tortoise bar near campus, and had a permit for his friend's gun he was carrying at the time, the two armed campus officers who shot and killed him were cleared of all wrongdoing. Many members of Washington's family were present at the meeting in support of disarming the campus.
"This Margolis Healy analysis means nothing to me. There's a man who lost his life, and that's what's important," Andre Washington, Jason's older brother, told the Portland Observer.
A PSU alumni, the Washington family member also testified to the board, and recounted a story from 2010 in which he was driving in his car with a friend—who was also African American—and was stopped by three campus officers on College Street.
"Yes, the same street Jason Washington took his last breath on, that street," his brother pointed out.
Andre Washington said he was a master's student at the university's School of Education when the officers—who did not announce themselves--asked for his license, registration and university identification. When he asked for more information on why he was being detained, a PSU officer told him to "shut up or I'm calling Portland Police," he said.
"These practices have been going on for decades. And those same practices, and fear, lead to the murder—and I use the term murder—of Jason Washington. I believe had the officer been armed in 2010, I may not be standing here or sitting here today. I want you to disarm this police force," Washington said.
The board announced it would establish a new campus public safety review and response committee with representatives from the board, faculty, students and other community members to assess the Margolis Healy report prior to a June board meeting when it's expected they will vote on whether or not to nix the current armament policy. The committee—which has yet to be formed—will give their recommendations to the board in May.
Another promise on process wasn't much comfort to the students in opposition, who took an opportunity during a break to hold signs of others killed by armed campus police officers across the country and chanting "Jason Washington, say their names! Disarm PSU! Disarm PSU!"
The Margolis Healy consultants found faults in the university's handling of its Camus Public Safety Office and pointed to an oversight committee that was under-resourced.