Emotionally Raw
PSU Board faced with pleas to disarm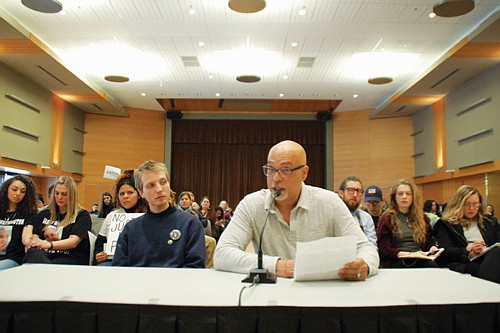 "We believe that CPSO really doesn't have a strategy for what it's doing," the firm's co-founder, Steven Healy, said. He added officers tend to do their day-to-day patrols "without the benefit of an inclusive process whereby the department is listening to the concerns of the campus community and responding to them in a coherent way."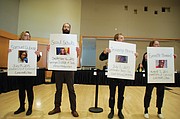 When the board's chair, Gale Castillo, asked what the firm's top five recommendations were, they named four main areas of improvement, with many sub-recommendations under that: oversight, community engagement, physical security—like improved lighting on campus and building security—and training, which was cited as a top priority. Overall, the consultants found PSU fell short on many of the expectations the University and board set for itself when it originally implemented its policy to arm officers almost four years ago, such as not maintaining a mixture of unarmed and armed officers.
Healy said the inability to respond to a potentially violent situation in a timely manner was the highest risk if the school chooses to disarm completely. They recommended reducing the amount of armed officers the school has, and making the primary respondents to crises be unarmed.
The firm also offered alternatives, such as staffing solely unarmed officers. That was a recommendation in line with the student union's counter-proposal, which also included dissolving the existence of campus officers all together.
"[We have] the need to disarm campus police because of the danger it poses to houseless people, people of color, trans people," Olivia Pace of Disarm PSU told the Portland Observer. "We are very dissatisfied with the report," she added.
The group also criticized the way Margolis Healy, which they said employs many current and former police officers, was selected.
Many faculty members said they found fault in the consultant's research. For example, more than one professor said the consultants used a confusingly worded survey question that seemed to ask whether there should be armed officers on campus--but used the phrase "trained and armed" in its wording. The results of that survey were that 52 percent of PSU community members wanted disarmed officers, from a 14 percent sampling.
Dr. Marisa Zapata who teaches urban planning at the school, said the consultants' recommendations seemed to contradict each other, and according to criteria she uses to grade students, failed completely as a piece of social science research.
"How can you recommend an entity maintaining lethal weapons of force when they lack a coherent policing strategy?" Zapata later recommended using a mixture of the Margolis Healy report and other research done on campus to draw assessments from "and see which ones line up."
Not all who testified were in favor of disarming the campus police officers. One student testified fearing for his life when he was confronted with a knife and could not receive help. A few others argued in favor of keeping armed officers. At one point, a student's testimony brought tears to many members of Washington's family.
A new bill in the Oregon legislature, introduced by Rep. Diego Hernandez, and co-sponsored by Oregon Student Association, would effectively nullify the university's deliberations as it would disarm both PSU and University of Oregon security officers if passed.
A separate independent investigation concerning the details of Washington's death, commissioned by PSU and conducted by a separated consultant firm--OIR Group out of California--has been delayed indefinitely, PSU President Rahmat Shoureshi announced late last month.