'It looked like a river'
Burst water main sees swift repair
A major supply water main break sent a geyser of water gushing into the middle of a residential street in northeast Portland Saturday, inundating the street and several others in the Alberta district with a wall of water, flooding nearly a dozen residential basements and leading to power outage impacting more than 10,000 customers.
The catastrophic failure was to a section of 30-inch cast iron pipe dating to 1915, causing a gaping hole in the line which was finally replaced by city workers on Monday near the corner of Northeast Skidmore and 23rd Avenue.
"The new pipe's in, it's been buried," Portland Water Bureau spokesperson Tony Andersen told the Portland Observer. "We thank the neighborhood and our city partners for their help and their collaboration and we appreciate everyone's patience," he added.
Water Bureau Maintenance and Construction Director Ty Kovatch said city crews respond to about 200 main breaks a year, but called this latest one "a very rare event and the largest main break we've dealt with."
Andersen said there's not a determination yet as to the cause of the break. The age of the pipe along with the added pressure on pipes from the thawing of frozen ground by warming temperatures and the impacts from new construction in the area, are the top hypotheses.
When the pipe broke, it caused a four-to-five foot tall geyser to burst at about 11:30 a.m. Saturday. An estimated rate of a million gallons of water per minute flooded nearby homes and businesses for several blocks; from Skidmore Street to Northeast Albert Street and on Alberta Street from Northeast 25th Avenue to Northeast 31st Avenue.
"It looked like the Deschutes River right here," said Kevin Hendrickson, whose home was about 100 feet from the break. "I am amazed they succeeded at replacing that pipe that fast."
"It was amazing how quickly people responded on the scene and how the neighbors all came together," added Geoff Knapp, another neighbor whose house was about two blocks from the break, but which didn't receive water damage. He added that it was "extraordinary" to have seen crew work overnight to get the repair done in a matter of days.
The repair was the culmination of what amounted to a day and a half of around the clock work from Portland Water Bureau crew, Andersen said.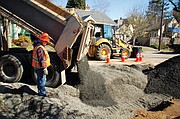 By late Saturday afternoon, PWB successfully reduced the water flow enough to start making repairs. From 10 p.m. Sunday night to 7 a.m. Monday morning, they successfully replaced the faulty pipe.
The Portland Bureau of Transportation is expected to complete their repairs of the affected street in one to two weeks, officials said. Until then, it's advised to avoid the area as crews conduct their work. In addition, the tap water of the area is okay to drink, but people should wait until the discolored water runs clear, advises Multnomah County.
In addition to the flooding, which saw firefighters carrying people on their backs through ankle-deep water so people could reach their vehicles or traverse flooded areas, a power shutdown also occurred as a safety precaution. From the early afternoon Saturday to about 7 p.m. about 10,000 affected customers of Pacific Power were without electricity in northeast Portland. About 10 homes which had equipment damaged by flooding did not have their electricity restored until later.
At Waffle Window on Alberta Street, one of the areas impacted, the peak lunch rush for a sunny weekend day became something out of a bad stress dream about work, manager Jordan Nidig told the Portland Observer.
"I was in the back and my cashier girl up here, she started screaming. She said it looked like a wall of water heading down the street… I kind of like brought everyone inside, barred the door," Nidig said.
Thankfully for him, the business was on a few steps up, so no water seeped in. Customers were evacuated out the back door.
Neighboring businesses weren't so lucky. Crew at the Thai Noon Restaurant said water entered their store and they had to mop it up, but it didn't cause any damage.
Water was two to three inches deep at Akasaru Ramen, its co-owner Soyoung Chon told the Portland Observer. There, it crept behind their front register, into the kitchen. Luckily their perishable food and building in general was spared of any water damage, though she said they were hit with a monetary loss from having to close up shop for several hours.