Saving the Carousel
Plans would give beloved attraction new life
3/20/2019, 6 a.m.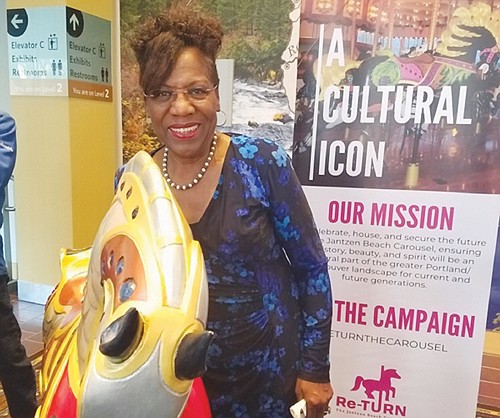 Restore Oregon, a statewide nonprofit organization promoting preservation, has unveiled design concepts meant to inspire the return of the historic Jantzen Beach Carousel to a popular public space.
During a reception last week at the Oregon Historical Society, supporters shared carousel pavilion designs produced by two Portland-based architecture firms, SERA and PLACE, to inspire developers, property owners, elected officials and planning staff to consider adding the carousel to future developments.
"Returning the Jantzen Beach Carousel to the Portland/Vancouver metro area is a development opportunity of historic proportions. An opportunity like this only comes around once in a lifetime," said Peggy Moretti, executive director of Restore Oregon.

Moretti said her group has already held productive conversations with government officials, developers and property owners in both Portland and Vancouver, but is eager to connect with other potential community partners. "We don't want to leave any stone unturned," she said.
Former State Sen. Margaret Carter, co-chair of the Jantzen Beach Carousel Blue Ribbon Committee, spoke passionately about the importance of having a public attraction that is affordable.
"For generations of Oregonians and Washingtonians, the Jantzen Beach Carousel was a wonderful, affordable way for families to go have fun. Affordability should be our goal for the future. It's all about family," said Carter.
Portland City Commissioner Nick Fish said the carousel can become Portland's next great attraction, "bringing smiles to generations of children. Let's return the carousel to Portland!" he said.
Designed and built by C.W. Parker in 1921, the Jantzen Beach Carousel is one of the biggest and fastest wooden carousels of its type left in the world. Weighing approximately 20 tons, it has a diameter of 67 feet and features four rows of 72 horses, plus two elaborately carved chariots.
Despite widespread adoration, the carousel provided its last ride on April 22, 2012. It was then disassembled and placed in storage, with no concrete plans for returning it to the public. It was donated to Restore Oregon in late 2017. Its future depends on securing a permanent new site.