Up Close with Michelle Obama
Former First Lady met with local book club
3/26/2019, 4:03 p.m.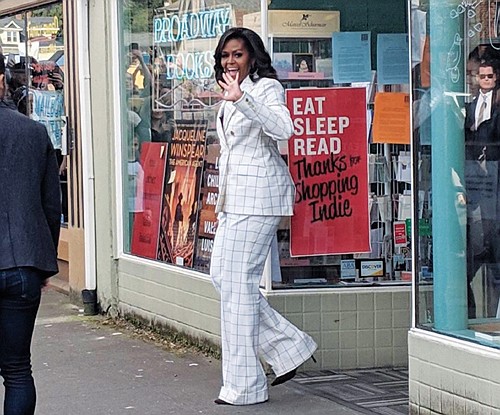 As part of Michelle Obama's visit to Portland last week to discuss her 2018 memoir, "Becoming," the former First Lady arranged to meet with a local book club to speak about the book, face-to-face, with culturally diverse community members.
Proprietors Kim Bissell and Sally McPherson of Broadway Books on Northeast Broadway Street said they were excited to fulfill the request. They had been contacted through her publisher, Crown Publishing Group, and arranged for Obama to meet with a book club of 14 young women—some native Oregonians and some immigrants—who were white, black, Asian, and Latina.
The group discussed how the book resonated with them on the topics of parenting, fleshing out her identity, and her relationships with her parents and older brother, Craig Robinson, who was recently Oregon State University's men's head basketball coach.
The meet-up was followed by the sold out show at the Moda Center on March 19 that included many powerful women in attendance, such as Gov. Kate Brown, in a moderated discussion of her book and life that had been rescheduled due to a threat of inclement weather last February.
The audience, who gave Obama multiple standing ovations, was packed with fans clutching copies of her book, toting handbags with her face printed on it, and donning shirts bearing the phrase "When They Go Low, We go High."
In the two hour discussion, prompted by questions and moderated by former White House chef Sam Kass, she mused on the topics of her upbringing in Southside Chicago, marriage and motherhood, her various careers spanning from municipal government to the nonprofit sector, and keeping hope alive in the current administration, though she did not mention Trump by name.
"It is hard to hate up close," she said. "Change doesn't start in the White House. It starts in our homes. Don't despair. Just do the work."