McCoy Building Opens
County public health workers move in
3/26/2019, 3:58 p.m.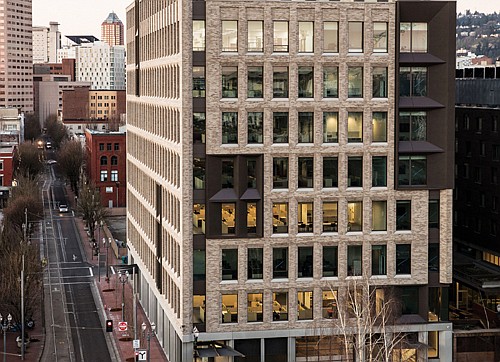 The new Gladys McCoy Health Department Headquarters across from Union Station in Old Town is now serving the community, a building named after the late Multnomah County Chair Gladys McCoy, the first African American elected to public office in Oregon.
About 500 Health Department employees started to move moved into the new nine-story building at the west end of the Broadway Bridge last week and will continue to move in over the next two weekends, officials said.
"The Health Department touches the lives of everyone in this county and we finally have a building that was designed, constructed and built to meet the needs of the staff and the people we serve,'' Chair Deborah Kafoury said during opening day ceremonies last Wednesday.
In addition to dazzling views of Union Station, and the Fremont and Broadway Bridges, the $94.1 million project includes a state-of-the-art central laboratory, pharmacy, administrative offices, communicable disease services, clinic space and an emergency health response command post.
Officials said the new building was designed to last 80 years, enabling the Health Department to serve Portland's most vulnerable populations, now and in the future. The opening also comes on time and under budget, two years after breaking ground and eight years after the county first launched the project.
Brett Taute, who managed the headquarters project for the county, said the Gladys McCoy building will receive a LEED gold certification, providing energy and water efficiency along with access to natural light for staff well-being.
Much of the roof area is covered in eco-roof, helping to manage the stormwater runoff with native planting viewable on the 9th level. The building also features gender-neutral bathrooms, a wellness center and open office space.