School Board Candidate Michelle DePass On The Issues
DePass has deep roots to community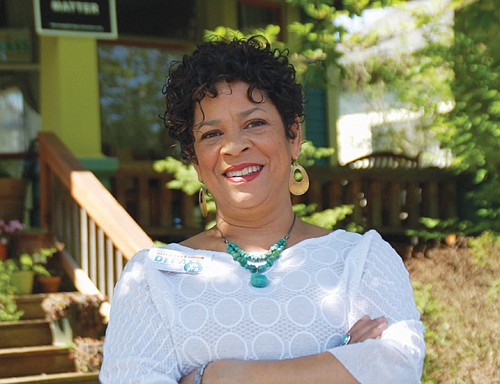 Michelle DePass, 58, has deep roots in the community; something she knows is an asset in her bid for a Zone 2 seat on the Portland School Board, which encompasses parts of north and northeast Portland, where she was born and raised.
She is one of the two African American candidates vying in the May 21 vote-by-mail election for a seat governing Oregon's largest school district, a position vacated by Paul Anthony after one term. Currently the seven member board has no black members.
DePass is the Community Engagement and Policy Coordinator for the Portland Housing Bureau, where she is focused on advising the bureau on how best to connect with community, serving low to moderate income people seeking housing.
The first thing DePass mentioned as a top priority for the school board was closing the racial achievement gap, as outlined in a recent Oregon Secretary of State audit of Portland Public schools, a report that she called "disturbing," but not surprising.
"We've known--community members have known for a long time that black and brown children are being failed. They're not failing. The system is failing them," she said.
DePass would address those failings by "aligning our budget spending with our racial equity plan," she said.
"The whole idea behind equity is that we direct more resources to where there's more need. It's not spreading equal resources across the city because some of our schools are doing just fine," she said.
The daughter of a Panamanian immigrant father and New Orleans ancestry on her mom's side, DePass moved around a bit when she was a child, bouncing from Central and South America back up to the states, but most of her schooling from elementary through high school was in Portland.
Both her mother and grandmother were teachers at King Elementary in northeast Portland for years. And Like her mom, DePass has experience as a single mom. She raised two boys, ages 18 and 20, who both attended Benson High School.
DePass attended both Metropolitan Learning Center, an alternative high school known for its successful and experimental learning techniques, and Jefferson High School, during the heyday of its exceptional dance program in the 1970s.
She completed a Master's degree in Sustainable Business at the Bainbridge Graduate Institute in Seattle and a bachelor's degree in Community Development from Portland State University.
DePass has gained a wide variety of professional experience over the years, from academic, to private, to public. The work has included construction, budget and program management; and working in the energy conservation field. In terms of government experience, in addition to her current role at the city, she's worked for the regional government Metro and Portland Parks and Recreation.
She has served as a community volunteer for years, including chaperoning students, and leading Girl Scouts Beyond Bars, a program making connections for girls with incarcerated mothers and grandmothers. She has led outdoor expeditions for kids of color. She's also taught business basics at King Elementary and at Beaumont middle school.