School Board Candidate Shanice Clarke On The Issues
Clarke calls for holistic, new approach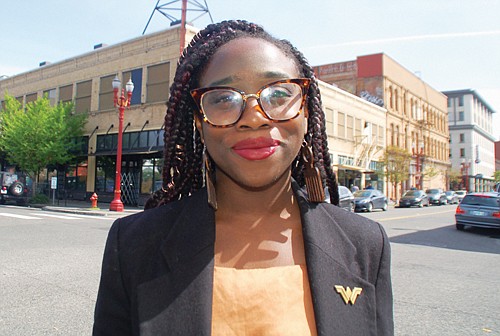 Shanice Clarke, 27, a career educator, aims to improve outcomes for disadvantaged students and students of color in the Portland School District by being elected to the district's seven member board of directors, from Zone 2, representing schools that feed into Jefferson and Cleveland high schools in inner north, northeast and southeast Portland.
Clarke has traversed a personal and winding path that led her to becoming an advocate for education, a goal she calls her life dream.
"I dedicated my life advocating for students," she told the Portland Observer. "I really identify with the true value of doing holistic work with students."
A first generation Jamaican immigrant, Clarke has the experience of navigating some the obstacles that can come with families who are recent immigrants. She moved frequently between her home island and the states while growing up. She also painfully learned how a disadvantaged student can fall through the cracks in school and not get the help they need.
In her case, as a young girl, Clarke said she was not supported by guidance counselors and teachers after experiencing a troubled home life of trauma, addiction in the family, and loss. Rather than investing in her, they issued "a lot of suspensions and detentions," which ultimately led her to not completing high school in Boston, Mass., she said.
Not to be deterred, Clarke followed up by getting her GED and pursing degrees in higher education.
She would go on to receive a Bachelor's in Human Services and a Master's in Educational Leadership from University of Northern Colorado, where she studied culturally responsive pedagogy and researched better ways of serving diverse students.
Today she runs a resource center for black students at Portland State University, the Pan African Commons, located inside PSU's Diversity and Multicultural Student Services Department.
"I love being on the front lines with students and doing crisis intervention and really focusing on improving systems to address, refer, and embrace students in ways that they deserve to be wrapped around," Clarke said.
Her achievements include the development of student engagement programs at PSU, as well as identity and leadership development work. She was part of the process to open the commons, helping to guide a consensus-building, collaborative stewardship process with students, faculty, staff and community members shortly after moving to Portland, directly after grad school, in 2016.
Clarke is a member of the Association of American University Professors, where she's active doing lobbying and supporting the collective bargaining process. But while being an instructor in different capacities at times, she said she identifies most as being an education administrator.
"Being on the front lines, being a young professional, that gives me the ability to inform an education policy that's connected to everyday experiences of students and I think that is something we're missing on the Portland Public School Board," she said.
Clarke is also a community organizer serving as a Board Member for OPAL Environmental Justice.
She was recruited to run by local African American community leaders, like Joy Davis, the executive director of the Portland African American Leadership Forum, and from leaders at Color PAC.