School Board Candidate Shanice Clarke On The Issues
Clarke calls for holistic, new approach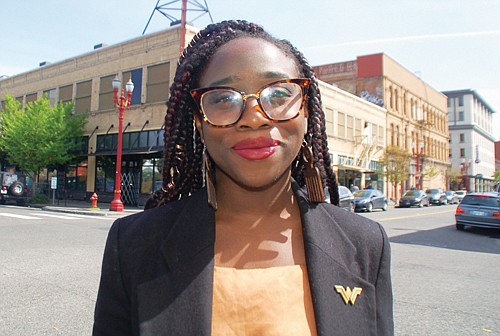 "Those folks initiated my process of thinking about running for the Portland Public School Board; and the more and more I thought about it, the more and more things connected," she said.
She said a recent audit of Portland Public Schools by the Oregon Secretary of State's office showing dramatic shortcomings in outcomes for students of color in the district is helping inform her on the needs. Improving the district's employee turnover rates by making improvements in teacher training, and supports, are actions she supports.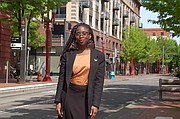 New and improved restorative justice discipline practices—which focus more on rehabilitation and holistic development rather than penal actions for students who misbehave--are a solution Clarke wants to emphasize more.
According to an Oregon Legislative report from 2017 called the African American/Black Student Success plan, and developed by some of the most prominent equity education leaders in the state, black students are two times more likely to get detention, suspension, or another type of punitive action compared to white students, Clarke said.
In cases where schools in Portland added a restorative justice coordinator position as part of the student misconduct process, the rates of suspensions dropped by 50 percent, Clarke said.
"I know for example at Ockley Green, they had 184 suspensions the year before and then with the coordinator, there was only four," she said.
Wrap around services in general, things like making sure students have housing or food assistance, is something Clarke wants to expand on. She added that she thinks the SUN Community Schools that offer added programs are doing a great job, but she'd like to see more offerings like that in other neighborhoods and schools that are under-resourced.
In regard to other plans to address racial inequality in the school system, Clarke said it should be a multi-prong approach. Firstly, the district needs to "have more teachers of color, more black teachers," and make sure they have the supports in place so they stay.
Early literacy interventions, like Head Start and relief nurseries, are also something she wants to invest in, as well as having longer school days and longer school years.
Clarke said professional development and bias training, as it relates to developing pedagogy for teachers, is also something the district needs to be doing, something black educators have specifically requested, she said.
"That restorative justice piece paired with the training I think will do wonders for students at PPS," she said.
Culturally responsive curriculum, as has been mandated with the passage of an Ethnic Studies bill in Oregon, is also important, Clarke said.
"It's…critical to have students feel affirmed and reflected and celebrated through their lived experiences and how they connect to curricular goals. And I think we will see higher performance when we do that work."
In addition, Clarke is a supporter of KairosPDX, the public charter school focused on closing the achievement gap for African American grade school students.
Clarke is younger than her opponent Michelle DePass in the May 21 vote-by-mail election, but Clarke points to her more years of overall professional experience in education.
"I think as it directly correlates to the job, I have direct relatable experience. I am a young professional," she said. "I just graduated from grad school a few years ago. But I think that that's also an asset. Being able to have a fresh perspective, a fresh set of eyes that's connected and rooted in the experiences that students are having and educators are having and interconnecting those things to inform how we create goals; those are things that I think the board doesn't have and could be a powerful tool moving forward."
Clarke is endorsed by of Joy Davis of PAALF, State Reps. Janelle Bynum and Diego Hernandez; Vice Chair of the Democratic Party of Oregon Black Caucus Rachelle Dixon; Reynolds School District Board Directors Ricardo Ruiz and Yesenia Delgado; Multnomah Education Service District Board Director Helen Ying; former state Sen. Robert Boyer, APANO, PCC Federation of Classified Employees, and Former Law Judge Charlotte Rutherford.
For more information about Clark's candidacy, you can visit her website at shanice4pps.com.