Writings for a Better World
Student leaders tackle systemic racism
By Madison Arnold-Scerbo | 5/8/2019, 9:29 a.m.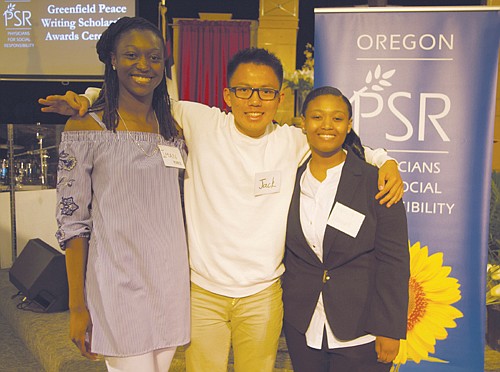 Diverse students from Portland are raising the public's consciousness about systemic racism.
Oregon Physicians for Social Responsibility recently honored three student winners at its annual Greenfield Peace Writing Scholarship at Celebration Tabernacle in north Portland. The theme was "How can you work against systemic racism to help make our world more healthy and peaceful?"
The program included remarks from members of the physician's advocacy group and a welcoming by Rev. E.D. Mondainé of Celebration Tabernacle and the president of the Portland NAACP.
Dr. Nicki Nabavizadeh discussed the mission of Oregon Physicians for Social Responsibility as promoting equity and justice. She said the group's goals are to protect human life from the gravest threats to health and survival by striving to end the nuclear threat, advance environmental health, protect our climate and promote peace.
The highlight of the evening was when the students read their winning entries aloud.
Alyssia Maxwell, the third place winner from Parkrose High School spoke about being a member of her basketball team and facing racist taunts during away games.
"I play for Parkrose High School and every time we go to St. Helens high school there's always a situation or problem happening every year...Their school is known for being racist. We thought we would be able to just play basketball and not worry about anything bad happening this time, but we were wrong about that," Maxwell said.
Iman Pearce of De La Salle North Catholic High School, the second place winner, wrote about being in the first grade when a classmate spoke up in front of her, the teacher and other students and said 'No, you're black" after she asked to play from the same toy box.
"Somewhere that girl had heard that people like me should not be allowed to touch something that was hers," Pearce said.
First place winner Jack Hill of Westview High School wrote about the inequities of providing housing for people who face economic hardships and discrimination, maintaining his own determination to overcome obstacles.
"Ain't never a silver-lining playbook so rigged/ as Portland metro's real-estate market… The biggest question for you is: How are you going to use your story moving forward. Are you going to create a conversation? Are you going to make waves? Are you going to foster understanding? Are you going to carve out opportunities? I know I am," Hill said.
The keynote speaker was Dr. Brian Gibbs, who serves as vice president for equity and inclusion at Oregon Health & Science University.
"Let's be clear, systemic racism is a corrosive and widespread problem in our society, and we all need to do a better job of confronting it - in our towns, in our neighborhoods, in our schools and college campuses, in our clinics, and in ourselves," Gibbs said.
Madison Arnold-Scerbo is a program assistant at Oregon Physicians for Social Responsibility.