Farmers Markets Open
King and other weekly markets coming on line
5/15/2019, 7 a.m.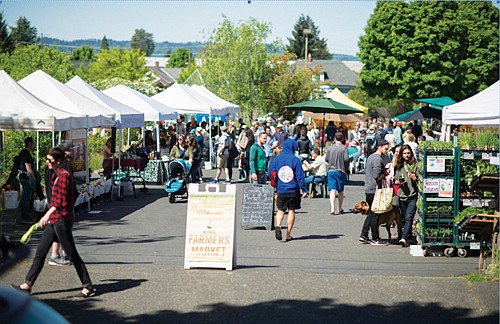 Springtime heralds the opening of Portland Farmers Market's across the city and that means four neighborhood weekly markets are coming on line for the season.
May marked the opening of the King Farmers Market at King School Park in Northeast Portland, which will operate each Sunday from 10 a.m. to 2 p.m.; and the Portland Farmers Market at Shemanski Park in the South Park Blocks, downtown, which will operate each Wednesday from 10 a.m. to 2 p.m.
Come June shoppers and vendors will be welcomed back to the Lents International Farmers Market at Southeast 92nd and Reedway between Foster and Harold each Sunday from 9 a.m. to 2 p.m., and the Kenton Portland Farmers Market in north Portland, which will operate Wednesdays, from 3 p.m. to 7 p.m.
As in past seasons, shoppers eligible for SNAP benefits will be able to receive $1 tokens using their Oregon Trail Cards to make food purchases. A dollar-for dollar match for SNAP recipients, up to $10, will be available at the Kenton, King and Lents markets.