Hot Shooting Sinks Blazers in Game One
Warriors open best of seven with win
5/15/2019, 8:30 a.m.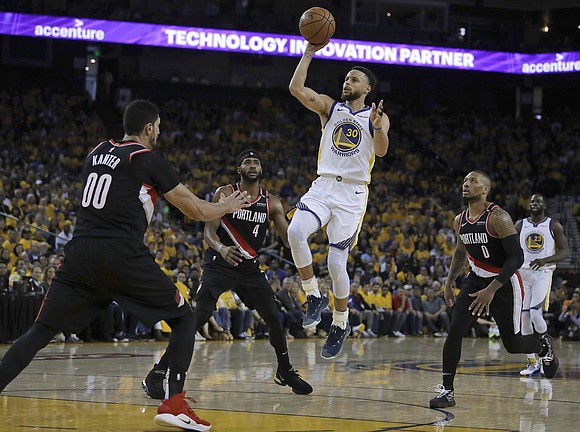 Little brother Seth struggled with three points for Portland, which shot 36.1% overall.
"It's not one-and-done. We've got a series, it's one loss," Blazers coach Terry Stotts said. "We've got to play better, particularly at the offensive end, but we've got to be better at both ends."
Lillard hit a game-winning 3-pointer with 6.3 seconds remaining in overtime Dec. 27 in his last regular-season game at Oracle Arena. He averaged 28.3 points and 6.5 assists in four regular-season games against Golden State this season.
He arrived for Game 1 in a custom Oakland Athletics baseball jersey having averaged 30 points in his nine previous playoff matchups against the Warriors.
Green has at least 10 rebounds in six straight playoff games, matching his postseason career-best streak of six also done last year.
"This series is going to get tougher and tougher," Green said.
FAMILY AFFAIR
Between warmup shots, Seth Curry stole a glance to the other end as his big brother went through his own pregame routine.
Back in the locker room, Stephen Curry said, "That was wild." Then, he joked, "Only me and Seth are going to score, the whole series."
The Currys became the first brothers to ever face off in a conference final and the first in any round since Marc Gasol for the Grizzlies against Pau Gasol and the Spurs in the first round of the 2017 playoffs.
"I caught myself a couple times looking up in the stands at my parents," Stephen Curry said.
Coach Steve Kerr certainly thought the rest benefited the Warriors.
"The schedule favored us but I thought we took advantage of the situation and got off to a good start," Kerr said.
The Blazers traveled straight to the Bay Area from Denver after winning Game 7 on Sunday rather than return to Portland.
"Denver seems like a week ago now," Stotts said.
Trail Blazers: Portland committed four quick turnovers and finished with 21 for 31 Golden State points. ... G Rodney Hood, who suffered a bone bruise in his left knee Sunday against the Nuggets, scored 17 points. ... Portland is 1-9 all-time against Golden State in the playoffs.
Warriors: Damian Jones, who began the season as starting center, returned from a torn left pectoral muscle to play in his first game since Dec. 1. ... Golden State is 18-1 in Game 1 of a playoff series dating to the 2015 title run, having won the last 12 postseason openers.