Sale Worries Neighbors
Woodlawn wants community use; fears more gentrification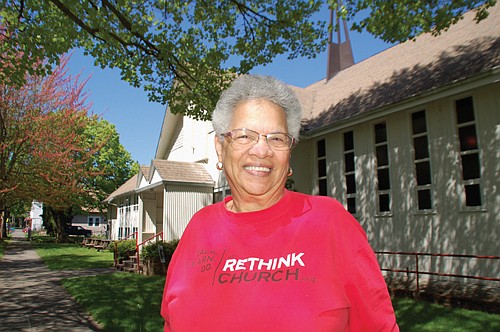 Advocates of the black community are rallying to retain public use of a Methodist church in the Woodlawn neighborhood where it serves Albina Head Start and other community uses, but they fear the property may be sold out from under them, displacing the child development center and a smaller congregation church .
The owners of former Woodlawn United Methodist Church, which has long been in use by Albina Head Start and other community services at Northeast 15th Avenue and Dekum Street, signaled on May 1 that it would prioritize the sale of the property to its current tenants, Albina Head Start and Deliverance Center of Generation X Church—which are both interesting in purchasing it.
But those hopes for a purchase waned among stakeholders last week when a real estate broker gave a tour to 10-15 other potential buyers.
Albina Head Start Executive Director Ronnie Herndon and a representative for the Deliverance Center told the Portland Observer that an outreach to the commercial market raises alarm bells for them, since both nonprofits were still waiting to get answers to their inquires to purchase the property.
"The words are one thing, but what's happening is completely different," Herndon said. "It's very unsettling and there was no attempt again to discuss the purchase of the building with Albina before they put it on the market, which they could've done."
Herndon said Albina Head Start has sent an intent letter to purchase the property "at or near market value," and has been told to expect a reply by the end of this week, by May 17.
Albina Head Start is a non-profit that assists low-income children and families with preschool activities and other social services and support.
In its recent letter addressing community concerns, the United Methodist Church Oregon-Idaho Conference said it hopes to seek a non-profit or other public service provider to purchase the property at or near market value.
"We are especially mindful of the decline of communities of color in gentrifying urban centers, including Portland. At the Woodlawn site, we have been blessed for many years to be in partnership with the community, this has included the Albina Head Start program and more recently the Deliverance Center for Generation X," wrote Greg Nelson, communications director for the regional Methodists group. "With that in mind, the conference's priority is to seek a non-profit or other service provider to purchase the property at or near market value."
The letter coincided with church representatives Rev. Daniel Wilson-Fey and Rev. Leroy Barber attending a Woodlawn Neighborhood Association meeting, in order "to be in conversation with the neighborhood," Nelson said. It came after many community members and activists asked the church conference to hold off on putting the church for sale on the open real estate market.
Nelson told the Portland Observer via email Friday that despite a real estate agent showing the property, that "it was not unusual to continue conversations with other possible buyers even when one offer has been submitted." He reiterated that the church is still prioritizing a non-profit or service provider at or near market value for the sale.