Parkrose Coach a True Hero
Brave response averts school shooting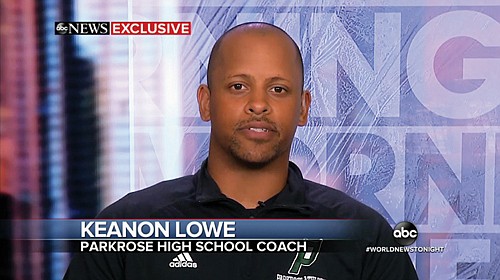 The shock was still in the air as students at Parkrose High School returned to campus this week even as one of its staff members is being hailed as a hero for tackling an armed student at the northeast Portland school Friday, preventing what could have been a tragic school shooting.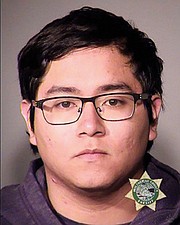 Though no injuries came of the incident, a team of counselors and extra police officers were on hand to help put students at ease as classes resumed Monday morning.
"I was just really shocked. I'm still shocked. I never expected that to happen here. I don't think anyone did," Clayton Espenel, a junior at the school who was in one building over when the gun scare took place, told the Portland Observer.

When asked what his reaction to the fact that Parkrose Football Coach Keanon Lowe disarmed the gunman, Espenel said: "I'm just really thankful, I'm sure everyone here at the school is."
The school held its regularly scheduled prom Saturday and this week seniors will pick up their cap and gowns from the main lobby as the regular school year is quickly coming to an end.
That the incident didn't escalate to something much more horrific is thanks to two students who informed a staff member of concerning behavior from one of their classmates. Lowe, also the school's track coach and a security guard, then located 19-year-old Angel Granados-Diaz and was able to wrestle Granados-Diaz to the ground and remove the shotgun he was carrying.
Granados-Diaz was charged Monday in Multnomah County Circuit Court with two counts of possessing a firearm or dangerous weapon inside a public building, one count of being in possession of a loaded firearm in public and one count of recklessly endangering.
A former college football star at University of Oregon, Lowe has since received nationwide praise for his actions. He received a complimentary basketball game ticket from Portland Trail Blazer guard Damian Lillard, who called Lowe's intervention "a real hero move." Lillard supports Parkrose as one of three local schools for his RESPECT program.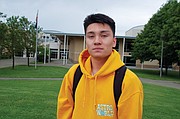 "I stopped a full-on school shooting. And when I say that, it's unbelievable. Unbelievable," Lowe told The Athletic reporter Jason Quick at Saturday's Game 3 of the Western Conference Finals at the Moda Center. Steve Kerr, head coach for the Blazers opponents in that game, the Golden State Warriors, had also thanked Lowe for his "remarkable act of courage."
Lowe recounted that the incident started with what seemed to be "just a routine call to go grab a student."
Within 10-15 seconds of when Lowe entered a classroom in the fine arts building of the school, "the door opens and there's a student with a gun," he said in an interview with Good Morning America.
In what he described as "the longest fraction of a second of my life," Lowe lunged for the weapon, wrestled the gunman to the ground, and eventually separated the shotgun from him, as students ran for cover during what became a lock-down situation.