Parkrose Coach a True Hero
Brave response averts school shooting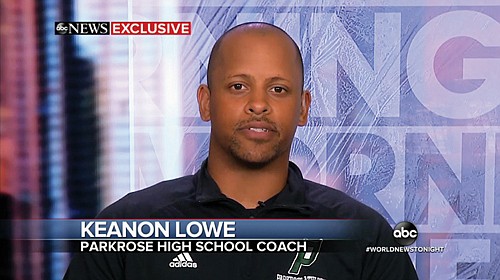 The shock was still in the air as students at Parkrose High School returned to campus this week even as one of its staff members is being hailed as a hero for tackling an armed student at the northeast Portland school Friday, preventing what could have been a tragic school shooting.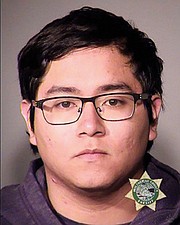 Though no injuries came of the incident, a team of counselors and extra police officers were on hand to help put students at ease as classes resumed Monday morning.
"I was just really shocked. I'm still shocked. I never expected that to happen here. I don't think anyone did," Clayton Espenel, a junior at the school who was in one building over when the gun scare took place, told the Portland Observer.

When asked what his reaction to the fact that Parkrose Football Coach Keanon Lowe disarmed the gunman, Espenel said: "I'm just really thankful, I'm sure everyone here at the school is."
The school held its regularly scheduled prom Saturday and this week seniors will pick up their cap and gowns from the main lobby as the regular school year is quickly coming to an end.
That the incident didn't escalate to something much more horrific is thanks to two students who informed a staff member of concerning behavior from one of their classmates. Lowe, also the school's track coach and a security guard, then located 19-year-old Angel Granados-Diaz and was able to wrestle Granados-Diaz to the ground and remove the shotgun he was carrying.
Granados-Diaz was charged Monday in Multnomah County Circuit Court with two counts of possessing a firearm or dangerous weapon inside a public building, one count of being in possession of a loaded firearm in public and one count of recklessly endangering.
A former college football star at University of Oregon, Lowe has since received nationwide praise for his actions. He received a complimentary basketball game ticket from Portland Trail Blazer guard Damian Lillard, who called Lowe's intervention "a real hero move." Lillard supports Parkrose as one of three local schools for his RESPECT program.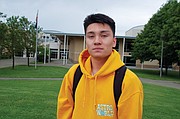 "I stopped a full-on school shooting. And when I say that, it's unbelievable. Unbelievable," Lowe told The Athletic reporter Jason Quick at Saturday's Game 3 of the Western Conference Finals at the Moda Center. Steve Kerr, head coach for the Blazers opponents in that game, the Golden State Warriors, had also thanked Lowe for his "remarkable act of courage."
Lowe recounted that the incident started with what seemed to be "just a routine call to go grab a student."
Within 10-15 seconds of when Lowe entered a classroom in the fine arts building of the school, "the door opens and there's a student with a gun," he said in an interview with Good Morning America.
In what he described as "the longest fraction of a second of my life," Lowe lunged for the weapon, wrestled the gunman to the ground, and eventually separated the shotgun from him, as students ran for cover during what became a lock-down situation.
"When confronted with the test the universe presented me with, I didn't see any other choice but to act. Thank God, I passed," Lowe recalled on Twitter.
"Everyone should know that Keanon is a hero because of the way he shows up to support these kids every day, not just today," a fellow track coach at Parkrose, Olivia Katbi Smith, Tweeted Friday.
Portland Police Chief Danielle Outlaw also praised Lowe for his bravery.
Parkrose was evacuated and a nearby middle school was on lockdown for several hours as the investigation unfolded. The high school students were bused to a nearby parking lot where they were reunited with their parents.
That was a point of relief, Parkrose High School freshman Justine Smith told the Portland Observer.
She added that though the incident was "terrifying," she praised the school for "doing an amazing job supporting us."
"All the teachers have been there for us and asked us if we needed to take a break or if we needed to just vent," Smith said, as she was leaving school Monday.
This week the school arranged for a team of counselor support for high school staff and students, made similar arrangements for nearby Parkrose Middle School staff and students, arranged for specific support for students who were in the building that was directly impacted by the incident, and increased security for protocol--not due to an additional threat--Parkrose Superintendent Michael Lopes Serrao said in a letter to Parkrose families Monday.
"There are so many people who deserve our deepest gratitude. The reports of staff heroism are true and many staff stepped up and put their lives in front of our students to keep them safe," he added.
Granados-Diaz, whose bail was increased to $500,000 by Multnomah County Circuit Judge Amy Holmes-Hehn on Friday, has a court date scheduled for May 29, 2019, the district attorney's office said.