Parkrose Coach a True Hero
Brave response averts school shooting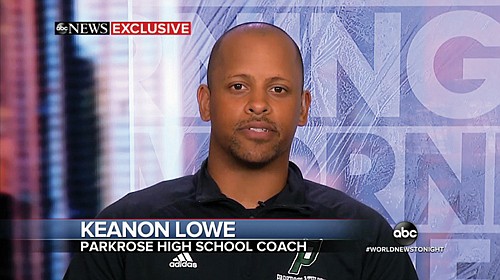 "When confronted with the test the universe presented me with, I didn't see any other choice but to act. Thank God, I passed," Lowe recalled on Twitter.
"Everyone should know that Keanon is a hero because of the way he shows up to support these kids every day, not just today," a fellow track coach at Parkrose, Olivia Katbi Smith, Tweeted Friday.
Portland Police Chief Danielle Outlaw also praised Lowe for his bravery.
Parkrose was evacuated and a nearby middle school was on lockdown for several hours as the investigation unfolded. The high school students were bused to a nearby parking lot where they were reunited with their parents.
That was a point of relief, Parkrose High School freshman Justine Smith told the Portland Observer.
She added that though the incident was "terrifying," she praised the school for "doing an amazing job supporting us."
"All the teachers have been there for us and asked us if we needed to take a break or if we needed to just vent," Smith said, as she was leaving school Monday.
This week the school arranged for a team of counselor support for high school staff and students, made similar arrangements for nearby Parkrose Middle School staff and students, arranged for specific support for students who were in the building that was directly impacted by the incident, and increased security for protocol--not due to an additional threat--Parkrose Superintendent Michael Lopes Serrao said in a letter to Parkrose families Monday.
"There are so many people who deserve our deepest gratitude. The reports of staff heroism are true and many staff stepped up and put their lives in front of our students to keep them safe," he added.
Granados-Diaz, whose bail was increased to $500,000 by Multnomah County Circuit Judge Amy Holmes-Hehn on Friday, has a court date scheduled for May 29, 2019, the district attorney's office said.