Natural Grocers Apologizes for Noose
Racist emblem traced to store worker's auto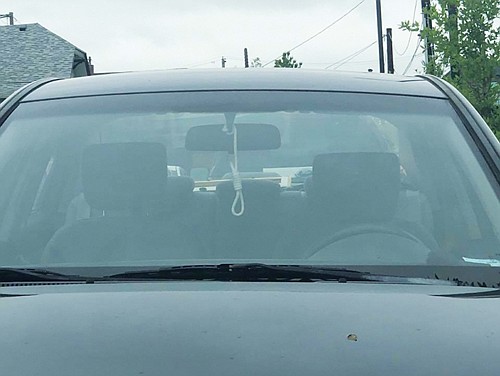 Natural Grocers apologized Friday after a miniature noose was found hanging from a rear view mirror outside the store in a car of one of its employees. The store is located in a retail shopping complex with African American roots at the corner of Northeast Martin Luther King Jr. Boulevard and Alberta Street.
In a response to the Portland Observer on Tuesday, Natural Grocers spokesperson Amber Dutra would not confirm the employee was the manager, but expected to have more information in the next 48 hours pending an investigation by the company.
"This matter is a top priority for Natural Grocers, and we are working as quickly as possible to complete our disciplinary action," Dutra said.
The proprietors of an art gallery located in the same complex, Cole Reed and her wife Dayna, were going grocery shopping Thursday with their 4-year-old son when Dayna originally spotted the noose, the Oregonian reported.
Reed, who is African American, posted a picture of the car and noose on social media, after being told the car belonged to a manager of the store.
"You have a noose in your car, and you are a leader in our community whether it's earned or promoted. That's not what you do," Reed reportedly told the manager.
The offending item has since been removed, Natural Grocers said.
Michelle DePass, who recently secured a seat as the only African American board member of Portland Public Schools, called the noose an unacceptable racist display, and shared Reed's social media post, calling for people to "blast" the grocery chain's Instagram account.
Dion Jordan, an African American community member and an equity and inclusion manager for Multnomah County, posted that most people who are not black cannot even imagine what facing a racist symbol feels like.
"How would you like to go to a grocery store in your neighborhood and see a symbol of hate, death, and murder towards you and those who look like you?" Jordan posted, adding that "The apology means nothing if that person is not fired."
The Colorado-based natural food chain issued a statement Friday saying it was "deeply offended by and utterly condemns the appearance of the offending item" and was "keenly aware of the symbol's offensive and hurtful nature."
"Natural Grocers wishes to express its sincere apology to the members of the MLK community for the offensive symbol that appeared in the car of one of our employees. As soon as this issue was brought to our attention, we launched an immediate investigation, which resulted in the removal of the offending item. Further appropriate action is being taken to address this issue, including conducting enhanced diversity training company-wide," the statement said.
Reed said she didn't want the employee's life destroyed or the adjacent businesses to suffer, but insisted there should be concrete steps to show the store has improved, like sensitivity training for employees and other measures of accountability.