'We Miss Eddie'
Gunned down and still unsolved 25 years later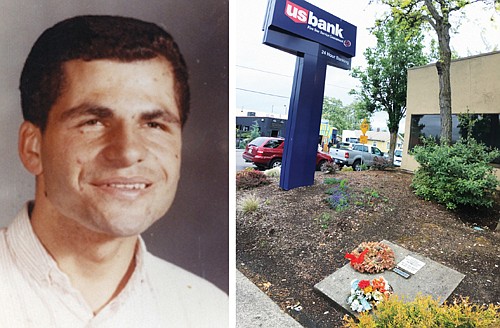 Parsons would later receive calls about once a week or more from Morgan while working at KGW, he said.
"He was a sweet man. He had an innocence about him. He just wanted to say hi and be friendly. He was a bright spot in people's day around there."
The last conversation Parsons would have with Morgan was the day before he died.
"Sometimes we had to be in a hurry, but I wasn't that day. I wished him a nice day and everything," Parsons said. "It felt good that the last conversation I had with him was a positive one."
Parsons once gave Morgan a tour of KGW, something Morgan seemed to really enjoy.
At one point the TV crew placed him behind an anchor's desk and mic'd up with cameras pointed at him. "Stand by!" Morgan said in his best news anchor impression, though he was not on air.
"We loved having him," Parsons said.
After his death, a candlelight vigil was held at nearby St. Charles Parish; and painter Lin Haak honored her neighbor with a painting of those who laid flowers and remembrances at Morgan's final resting place, something that gathered large crowds of people at the time. The prints sold in local businesses to finance a reward fund--which would eventually amass $10,000, though it's not known whatever came of the reward fund.
At a permanent memorial where Morgan was shot, an inscription reads "Eddie 'The Weatherman' Morgan – May the Sun Always Shine on You."