Veteran's Day Salute
Buffalo Soldier is buried at Fort Vancouver
11/4/2019, 11:13 a.m.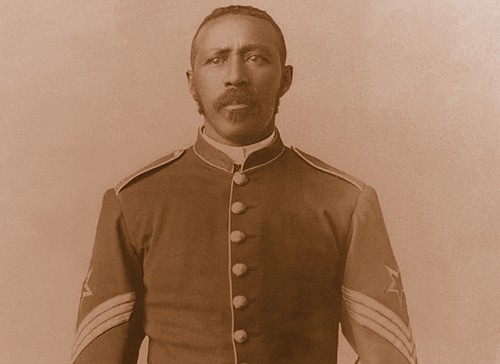 Moses Williams (Oct. 10, 1845 – Aug. 23, 1899) was a Buffalo Soldier in the United States Army and a recipient of America's highest military decoration—the Medal of Honor—for actions in the Indian Wars of the western United States.
Williams joined the newly formed 9th Cavalry in October 1866. By Aug. 16, 1881, he was serving in Company I of the 9th Cavalry Regiment when he participated in the Battle of Cuchillo Negro Creek in the Black Range Mountains of New Mexico. For his actions during the fight, Williams was awarded the Medal of Honor 15 years later. His lieutenant, George Ritter Burnett and private Augustus Walley also received the Medal of Honor for their actions in this battle.
Williams became one of the first African-American Ordnance Sergeants in 1886, and starting in 1895, served at Fort Stevens on the Oregon Coast, where he was charged with the care of large coastal gun emplacements. He retired in May 1898 and died the next year at the age of 53. At the time, he had nine books, a pipe, a cigar holder, some stamps, a pen, pen points, his bed, some chairs, some neckties, and $23 to his name. He was buried in Fort Vancouver Military Cemetery in Vancouver.
The story of Moses Williams from the Buffalo Soldiers of the Pacific Northwest Documentary, a soon-to-be-released production produced and directed by local filmmaker Dru Holley about the historical all-black cavalry and infantry regiments and their influence on U.S. military history and how that legacy is being kept alive today.