Free Flu Shots at Legacy
Three locations in northeast Portland
11/5/2019, 2:55 p.m.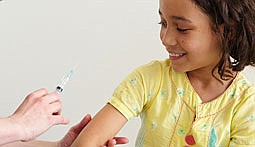 Free flu shots are available to the community this month while supplies last at three Portland Legacy locations: From 6 a.m. to 10 a.m. Mondays, Wednesdays and Fridays at Legacy Emanuel Medical Center; from 4 p.m. to 8 p.m. Tuesdays, Thursdays (except Thanskgiving) and Saturdays at Randall Children's Hospital at Legacy Emanuel; and from 11 a.m. to 3 p.m. Sundays and Tuesdays at the Legacy Holladay Park campus.
No payment or insurance required. Those under 15 years old require a guardian present. Vaccine options will meet every need: Egg-free, high-dose, preservative-free, latex-free and 4-strain.
Health officials say they have started to see cases of flu in Oregon. They recommend everyone 6 months and older get a flu vaccine.
People who get vaccinated not only protect themselves but may also protect those around them. People at higher risk of severe illness include babies and young children, adults older than 65, pregnant women, and those with chronic medical conditions or weak immune systems.