Race and Truths Unfold in 'Redwood'
Play looks at deep questions about race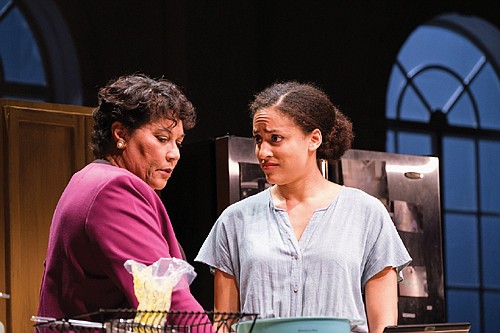 And yet, dad also evinces some health problems, including gout--not like what homeless people get, he is at pains to point out. Gout is apparently caused by an excess of acid in the blood; my read would be that dad's body is evincing some signs of struggle with the family's unmetabolized history. His Korean-American wife Hattie, whose energy is clearly absorbed with caring for him ("I have to cream your dad's foot," she interjects more than once), is able to hold more curiosity, even if it's not as focused as it could be. As played by Ashley Mellinger (another of the dancers), her facility evinces some practice at navigating the complex waters that connect her truth with her husband's.
Allen wisely doesn't attempt to solve the dilemmas her play serves up. If we think about it in the way she clearly hopes we do, we will realize that even if we don't find this direct a connection in an ancestry search, a courageous investigation of our shared history will uncover truth just this painful and awkward. As Allen has expressed, "a major goal of the play is to acknowledge the hugeness of any family's tree and show how we are all of us in America tangled up in one another." She clearly means to leave us with reason to hope, but she has also captured how even facility with language and analysis around race doesn't prepare us to hold the truth in our bodies. The cast members who dance in this production (including Andrea Vernae, whose other roles include the black family's matriarch, Alameda, and Charles Grant) hold it best; this play is offering clues about the challenge of embodying the truth of our shared connections.
"Redwood" is now playing at Portland Center Stage at the Armory through Nov. 17.
Darleen Ortega is a judge on the Oregon Court of Appeals and the first woman of color to serve in that capacity. Her review column Opinionated Judge appears regularly in The Portland Observer. Find her blog at opinionatedjudge.blogspot.com.