TriMet Defends Added Security
Others see fare inspectors as part of the problem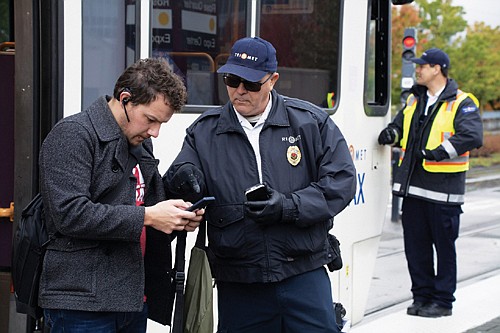 When TriMet recently announced plans to hire nine more fare inspectors, some activists claimed the move unfairly discriminates against poor people and people of color.
Gabriela Saldana Lopez of Bus Riders Unite, a project of OPAL Environmental Justice, said with increased fare enforcement, TriMet is "spending a lot of money to further criminalize folks."
Lopez said she believes the public transit agency should lower its fares and even have a fareless system. Last year, Bus Riders Unite played a key role in pushing TriMet to adopt a new low-income fare program, and its members are now pushing for a completely fareless TriMet system.
"I think they should lower fares and ideally should have a fareless system," Lopez said.
But that would be impractical, said TriMet spokeswoman Roberta Altstadt, and would result in decreased services. Adding more fare inspectors will actually help riders, she said.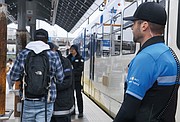 TriMet made its case for more fare inspectors on Twitter last month stating, "We've all seen it: somebody not paying their fare. It's frustrating, especially if you've paid yours – complaints about people hoping on board without paying are among the most common we get."
But more than 900 responses almost unanimously tweeted back that that's not the case, and agreed with the transit advocates.
"I ride TriMet seven days a week," stated one tweet. "I can state without a doubt that most frustrating thing I have experienced is fare inspectors harassing people of color and unhoused folks. I mind my own business in re fares, which should be free anyway. I suggest Nosy Nellies do the same."
Many of the tweets responding to TriMet said much the same thing.
"This does not make me feel any more comfortable or safe," another post read. "Your fare inspectors constantly target people of color more than anyone else. I have watched your fare inspectors ask people of color for proof of fare and ignore me because I'm white."
Altstadt pushed back, saying anyone can post something on Twitter, and pointing out that comments from Twitter are not balanced.
"We do hear from people who say they're paying their fair share and playing by the rules but they want more security," she said. "They just want to be able to take transit to and from their jobs and do so without being disruptive."
Lopez argues that instead of adding more fare inspectors, TriMet should redefine those jobs.
"Instead of fare enforcers, what we would want to see them do is advocate for riders," she said. "We want to push those nine folks to become better rider advocates to provide resources, support and de-escalate situations. We would like to redefine those jobs."
But Altstadt said the new fare inspectors plan to do many of those things.
"These teams out there on a daily basis enforcing TriMet code and for an added presence of security on board. We have complaints where (riders) don't see people they could reach out for help," she said. "We are also making sure everybody is following the rules for a more friendly environment to ride in. Teams will work in specific areas so get to know the riders and riders get to know them and they can help riders with directions and more," she said.