TriMet Defends Added Security
Others see fare inspectors as part of the problem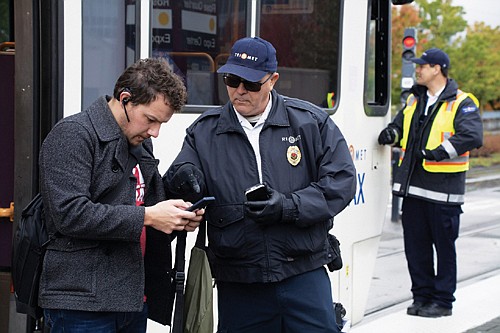 According to TriMet's most recent rider phone survey of 807 people, 44 percent strongly agreed that TriMet should enforce fares, but just 2 percent were concerned about the lack of enforcement.
Altstadt said TriMet's fare evasion rate of 18 percent is higher than the national average and it's a misconception that those who skip on fares can't afford them.
"Some concern has been raised that this is supposedly targeting those that have trouble affording transit. It's not," she said. "We do a fare evasion survey where we ask those who didn't pay why, and only 2.3 percent say couldn't afford it. They say they were just chancing it."
For those who are struggling financially, TriMet offers discount or "honored citizen" fares for the elderly, disabled, those on Medicare or Medicaid, or who make up to 200 percent of federal poverty levels, Altstadt said.
The fare citation process has also been eased in that people have 90 days to go through TriMet to pay a fine and avoid going to court, and if they qualify for the discounted fare, the ticket is voided.
"We had to go to the state legislature to change the citation process to bring the punishment more in line with the violation and brought citations in-house," she said.
Another issue is "a lack of vision and oversight" at TriMet, according to a report from the rider advocates in light of a private memo from TriMet's Bernie Bottomly that TriMet objects to service enhancement dollars coming from a 2020 Metro funding package.
"This, despite ongoing community outcry for enhanced transit service to fill gaps, reach all schools and underserved neighborhoods in the region, and the clear need to reverse declining readership," the report states.
The rider advocates also state that TriMet plans to increase fares in the future, which Lopez said will negatively impact ridership.
"Some at TriMet foresee a future where ridership declines and fares go up," she said. "Bus Riders Unite sees just the opposite. We want fares to go down."