Giving Voice to Economic Truths
Actors contribute to script in new play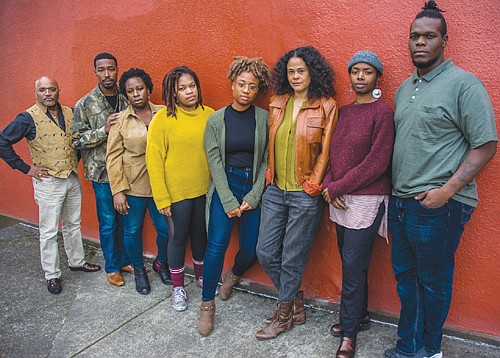 When Damaris Webb's new play, "SOUL'D: The Economics of our Black Body," was performed at the Vanport Mosaic Festival back in May, it was only 15 minutes long. But now the play, to be performed again starting Thursday, Nov. 14 and continuing through Nov. 24, has grown to nearly an hour long. Performances will be at 7:30 p.m. each evening at the Interstate Firehouse Cultural Center in north Portland, with Sunday matinees at 2:30 p.m.
The play has grown not because of Webb's sole input, but because it was "a work in progress" and a collaborative effort of all the cast members, she said, and everyone contributed to the final expanded product.
"We all co-wrote this play, but I'm at the head in shaping and pushing," Webb said. "It's collaborative, horizontal playmaking."
Traditionally, plays are vertical, from the top down, she said, with the playwright at the top. But this collaborative approach as a way of crafting a script often has a different result, she said.
"Everyone contributes, from personal experience, research on personal narratives, legislation and news articles," she said. "This piece is not a linear story of a particular person's journey, but it does have a beginning, a middle and an end."
The play investigates the narrative of the American economic dream for black Americans, drawing from many sources, as it looks "the microcosms of slavery to present day post-Obama backlash."
Webb says the play seeks "to translate, through the intimacy and flexibility of theater, the effects of disparities in legislative action, capitalism and identity, within the communities in which our black bodies participate."
In particular, the play asks the questions: What is black wealth? Is black success assimilation? How has black American growth manifested despite disenfranchisement in passing on wealth through land ownership, knowledge of lineage and financial freedom?
Webb said the play intends to produce "rigorous and dynamic original theater that creates advocacy around stories that resonate in our communities and to encourage broad participation in all areas of the production."
The theme will also be reflected in a 15-minute documentary, "Root Shocked," to be shown in conjunction with the play, and which tells the story of gentrification and displacement in Portland via the moving of the Portland's historic Mayo House. The production was spearheaded by local African American artist Cleo Davis and produced in association with the University of Oregon School of Journalism and Communications.
The home, built in the 1890s, had already been moved twice before to make room for other growth, but when the city approved it for demolition last year, neighbors in the Eliot neighborhood, including Davis, protested. They were successful in getting the house purchased for historic preservation and in January it moved to 236 N.E. Sacramento St. where Davis is planning on turning it into a community cultural center that archives the history of African-Americans in Portland.
Webb said the Mayo House story also illustrates how black families can – or cannot – pass on wealth.
"What does it mean to pass on wealth, and how has that happened in our black communities?" Webb asked.