Activist Pastor on Moral Crisis
Group brings national speaker on social justice
11/19/2019, 4:55 p.m.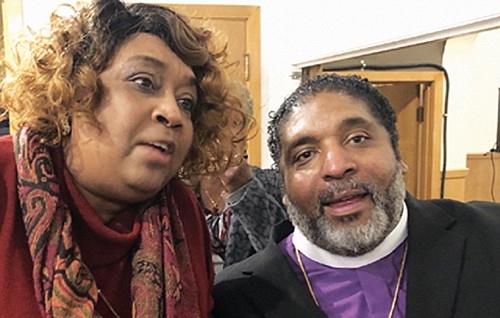 Rev. William Barber II, an outspoken advocate for social justice and grassroots activism, spoke last week at Alberta Alley as part of the Meyer Memorial Trust Equity Speaker Series on race, equity, inclusion and diversity. The event was sponsored by the Meyer Memorial Trust in partnership with the Coalition of Communities of Color and the Oregon Center for Public Policy.
Barber, pastor of the Greenleaf Christian Church in Goldsboro, N.C., was named a recipient of the 2018 MacArthur Genius grant for his work as a faith leader and social justice advocate building a broad-based grassroots movement grounded in the moral tenets of religious communities and the United States Constitution to confront racial and economic inequalities in America.
In Portland, Barber spoke about his vision for a "moral impeachment and moral reset," addressing racism in government policies.
He told the group it was the right of the people to alter government policy when government is not living up to the rights and liberties for all, according to Dr. Audrey Terrell, a Portland educator, mentor and nonprofit founder who attended the lecture.
He explained how "freedom" was not in the constitution but "liberty" was, calling for a reset of our moral values, Terrell said. He also called on the audience to rise up and build a movement for justice together, urging participating in a Poor People's Campaign march this coming June 20 in Washington, D.C., a repeat of the 1968 march organized by Dr. Martin Luther King Jr. before he was assassinated in April of that year.